The Balkan country of Montenegro, about the size of Connecticut, has become of one of the preferred yachting destination in the Med this season. On the Adriatic, between Croatia to the north and Albania to the south, Montenegro offers about 180 miles of gorgeous coastline where sheer mountains dive into the deep-blue sea, with new world-class marinas designed to attract yachts and yacht owners for long periods of time.
The often-preferred spot within Montenegro is the Bay of Koto (locals call it Boka) on its northern end, a historic fjord-like spot with charming medieval villages. Lately the superyacht set has been heading there, foregoing Saint-Tropez or Costa Smeralda, because of its beauty, its new marinas with luxurious facilities (infinity pools, helipads, spas) and the fact that its docking fees tend to be lower than those in Italy or France.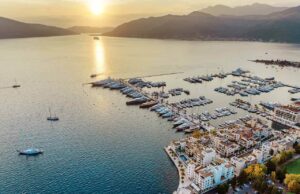 More important, perhaps, is that there has been a shortage of docking facilities in the Med. The late Canadian billionaire Peter Munk decided to solve that that problem by building something new. He found an old Hungarian military base that he transformed into a luxury marina, with help from Bernard Arnault, the CEO of LVMH and arguably the richest man in the world, and Oleg Deripaka, a Russian industrialist.
The large, luxurious, full-service marina they created is now Porto Montenegro. It was built for superyachts (and others) and has high-end boutiques, waterfront restaurants, a yacht club, concerts, fashion shows and yoga at sunrise.
Other luxury marinas followed, including Lustica Bay and Portonovi, all mixed-use facilities with docks, hotels, waterfront property for sale, and access to some of the most beautiful surroundings in Europe.
Luxury hotels are not far behind the marinas. One&Only has opened its hotel at the entrance to Boka Bay in Portonovi; the Ritz Carlton has announced a major project in Lustica Bay; Rosewood is looking at the historic town of Budva down the coast.
If you drive three miles or so inland, you can enjoy rafting in the canyons of the Tara River, or swim in the rock pools in Nevidio Canyon. Montenegro has lots of small family-owned wineries that are open for tastings. Read more: