Over the summer, Hinckley delivered hull number one of its new 35 with twin outboards to its proud owner. The boat will make its public debut at the Newport boat show, starting Sept. 16.
This newest Hinckley combines the classic looks of the original Picnic Boat with the performance of an outboard vessel. Standard power is twin 300-hp outboards (Mercurys or Yamahas); you can upgrade to 350-hp outboards, from the same companies, and hit a top speed of 48 mph. The new 35 has a range of 300 nm at 35 mph.
"This new model is a true Hinckley in every respect," said Scott Bryant, Hinckley's vice president for sales and marketing. "She was designed from day one as an outboard-powered craft, with an optimized hull shape and chines and strakes designed to provide added lift and stability." The boat was designed by Michael Peters, the world-recognized yacht designer from Sarasota.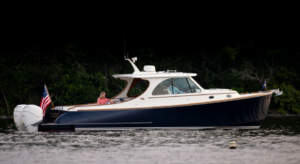 I've been a fan of Hinckleys ever since I drove Dasher, hull number one of the Picnic Boat, with Shep McKenney, then the president of the company, in Southwest Harbor, Maine, in 1994. It was designed by Bruce King and it was 36 feet long with a single 350-hp Yanmar diesel and jet drive. It topped out at 29 knots. The Picnic Boat was fun and it was head-turning, both for its looks and its performance.
With its graceful lines and unmistakable elegance, the Picnic Boat became an icon of yachting, envied – and copied – around the world. The new 35 carries on the best of that tradition.
The new yacht is family-oriented and, like the Picnic Boat with its jet drives, you can pull it up to a beach or trim the outboards up when you're in skinny water. And it still has all the built-in-Maine craftsmanship and exquisite teak that are Hinckley hallmarks.
The boat is laid up with infused carbon epoxy construction that creates a single chemical bond between the hull and support structures from bow to stern. It's solid, and it's lightweight.
The 35 makes use of Hinckley's innovative ClearView single-pane windshield so the captain has an undistorted and unobstructed view all around. He, or she, also has Hinckley's advanced joystick controls at the boat's varnished teak helm station.
Below, the Hinckley has varnished teak accents and cabinetry and a teak-and-holly sole for a nautical touch. A berth for two is forward. The galley, with a sink, microwave, cooktop and fridge/freezer, is to port, and the spacious head is to starboard.
The salon and cockpit have enough settees for everyone to stretch and relax, and a deep locker under the cockpit has enough room for stowing bikes, chairs and extra gear.
So far, the new 35 seems like a home run. Hinckley has sold 12 of these boats; the company usually builds only about 30 boats a year.
For his part, Bryant says, "With Michael Peters' help, we have created an exclusive heirloom-quality boat that enthusiasts of the yachting lifestyle will want to keep in their family forever."
Specs.: LOA: 38'8"; Beam: 11'0"; Draft: 2'10"; Disp.: 13,174 lbs.; Fuel: 300 gals.; Water: 35 gals.; Power: 2×300-hp outboards; 2×350-hp outboards. Read more: