Here's a fun idea for your next boat: A floating vintage car that can be powered with electric motors or outboards to hit a top speed of 55 knots, turning heads all along the way.
The car-boats are made by Floating Motors, a new company that's a joint venture between Jet Capsule and the Lazzarini Design Studio in Rome. The idea is to take a vintage car, remove all its mechanical parts, mount it on a catamaran or hydrofoil base, and then set it loose on the nearest body of water.
The company says the result is "a delightful combination of confusing and cool." It also has created a new category to define the entire enterprise: "resto-floating."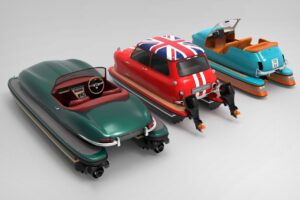 So far, Floating Motors has restored classics including the VW Microbus, Fiat 500, Mini Cooper, Porsche 550 Spyder, and Jaguar E-Type. Depending on the model, the car-boats can be fitted with 40-hp to 135-hp electric motors or twin outboards.
The hulls come in various sizes, from Extra Small at 10 feet to Extra Large at 24 feet. The company says you can use the vessels for everything from a tender to a resort water shuttle. Or you can simply motor around your favorite harbor with a big smile on your face. Read more: http://floatingmotors.com