If the old saying that the three most important things in real estate are location, location,  location can also be applied to cruising, then Cape May, New Jersey, is about as good a spot as you're going to find.
Cape May is particularly important this time of year, as more and more snowbirds are planning their cruises south for the winter. At the very southern tip of New Jersey, it's where you make a choice about whether to continue offshore down to Norfolk, Virginia, or take the longer, but more scenic, route up the Delaware Bay, through the C&D Canal, and then cruise 178 nm down the Chesapeake to Norfolk and Mile 0 of the Intracoastal Waterway.
Billed as one of the oldest seaside resorts in the United States, Cape May first attracted groups of wealthy summer residents from Philadelphia just after the Revolution. Today it is still filled with grand Victorian houses, museums, shops and waterfront restaurants. It has a year-round population of 3,463 people, but in the summer that number explodes to 40,000 or even 50,000 people. They are attracted to the same long, pristine sandy beach that drew all those Philadelphians hundreds of years ago. Indeed, the Travel Channel says it's one of the ten top beaches in the U.S.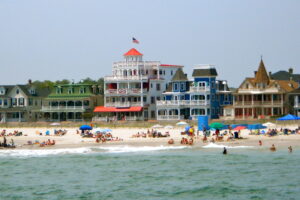 Cape May is also a sportfishing and commercial fishing center, dating back to the indigenous people and then New England whalers. Now it's home to major sportfishing tournaments as well as the largest commercial fishing port in New Jersey.
For cruisers today, Cape May offers one of the safest inlets in New Jersey. The channel is well-marked and leads to marinas, waterfront restaurants and stores for provisioning. There's also a large Coast Guard base and the Coast Guard's training facility.
If you want to continue in the Atlantic, down the Delaware, Maryland and Virginia shore to Norfolk, you'll probably want to refuel and reprovision in Cape May. I've done both routes many times, and staying offshore is certainly the fastest way to go if you have a seaworthy vessel.
The more relaxed, and much longer, route, is to take the Cape May Canal over to Delaware Bay and then head up the bay about 45 nm to the C&D Canal. The problem with this is that the bay is often filled with container ships and other enormous vessels and it can have currents flowing at up to 5 knots. It also is boring.
However, once you turn left to enter the 14-nm-long C&D Canal and emerge on the other side, the Chesapeake offers some of the best cruising, and cruising destinations (think Annapolis, St. Michaels and Oxford), on the east coast. Read more: