Last Monday, the day after the close of the successful Newport international Boat Show, I had the good luck to join professional captain Louis for a quick sea trial of the new Vicem 50 Classic. The dawn was clear and cool without a breath of wind brushing Newport Harbor. Louis fired up the twin Volvo IPS600 engines and with bow thruster and IPS pod drives engaged, he inched the 50 out of her tight slip at Bannister's Wharf and drove her slowly into the fairway.
As always on late summer mornings, Newport was filled with an amazing collection of sail and power yachts, ranging in size from 30 to 300 feet and in age from antique to the latest and greatest. It would be easy to be intimidated by the Newport fleet, but not on the Vicem 50 Classic, which holds her own in looks, styling and pedigree with any modern yacht with traditional bones.
The 50 follows in the wake of the 46 Classic as a family cruiser with Down East appeal. She has a springy sheer line, a high bow with plenty of flare and a sweet stern with a touch of tumblehome.  Her cabin top has a fairly low profile set off by the huge side windows and forward windshields. A low mast on top carries the radar and other antennas.
As we motored slowly through the fleet, I went forward to the bow and found the hand rails well positioned on the cabin sides and the side railing high enough so I could stay braced all the way forward. There are two lockers in the forepeak for stowing anchor rodes, spare anchors, fenders and dock lines. The anchor stows on a small sprit so it won't bang against the hull when being lowered or raised.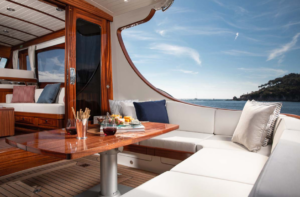 The cockpit aft has a door leading to the swim platform, which can be securely closed with a massive stainless-steel latch, a nice touch for those times when you may have rolling, following seas. In the cockpit there is an L-shaped settee around a handsome rectangular table that is finished with a beautiful star-shaped inlay. With folding chairs added, you could seat six at the table for meals.
The salon has bench settees on both sides with a small wood coffee table in the form of a storage box for throw pillows. The settees will seat six or more for sundowners or for laptop meals in cool or rainy weather; they also could serve as sleeping berths in a pinch.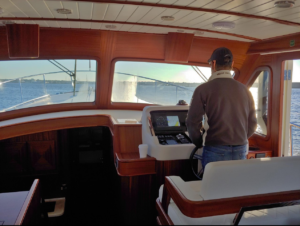 The helm is forward to starboard and has a wide two-person bench. The command center on the boat I was on had two multifunction displays, one showing a small-scale chart for reference and one with a large-scale chart for detail. Over these, the AIS and radar data can be displayed. The engine controls and IPS control are small, compact units that are easy to use.  Visibility forward from the helm is excellent and the two large wipers kept the windshields clear of the still-condensing morning dew.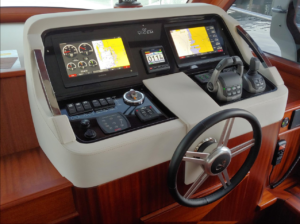 Down four steps going forward, I found the L-shaped galley to port with a two-burner counter-top stove, stainless-steel sink and below-counter fridge. It looks minimalist but is in fact everything you need for keeping the family well fed and happy.
Across the from the galley is the guest cabin. In this model, it offered twin berths that could be transformed into a large double bed with an insert. There is a hanging locker and plenty of cabinet space for guests to stow their clothes and gear.
The master cabin forward has a center-line double, two hanging lockers and several cabinets and drawers. You could easily stow all of your clothes for a wide range of climates here. The master cabin and the guest cabin have large, fixed ports in the hull so you can lie in bed, pull back the curtains and have a wonderful view of the harbor around you.
The head is large and has a glass-doored, separate show stall. The sink is Euro modern and the head has an electric macerator that pumps into a large black water holding tank.
The finish work of the interior of this Turkish-built yacht is classic Vicem, with mahogany paneling, artful door and drawer fronts and a pleasing traditional look.
Our sea trial took us out of Newport harbor at the 5 knots required but once we turned the corner at Fort Adams, I urged the throttles forward and gradually the 50 accelerated. I set the throttles at a 2000 rpms or what would be cruising speed and she settled down at 17.5 knots on the GPS.  In this mode, we were able to drive through a series of motorboat wakes, simulating a rolling sea, and felt the 50's composite V hull ride through them easily and without a crash or bang.
After putting her through a series of wide speed turns, we headed back into Narragansett Bay and pushed the throttle to wide open. The RPMs inched up to 3500 and the speedo pegged out at 24.8 knots. According to the instruments onboard, at cruising RPMs we were burning about 0.6 gallons a mile per engine. At max RPMs, that went up to a gallon a  mile per engine. All in all, the 50 Classic is easy to handle, has a pleasant soft motion and is extremely quiet even at max RPMs.
The Vicem 50 Classic is a fine family cruiser with accommodation for up to six. It has enough fuel and water aboard to let you go far between fuel docks. At 17 knots, you can really cover some territory so a week away from home cruising can be a real long-distance vacation.
Specs: LOA: 52'0"; Beam: 14'5"; Draft: 3'8"; Disp.: NA: Fuel: 528 gals.; Water: 200 gals.; Power: 2×450-hp Volvo IPS600 pod drives. Read more here.