Whether you're walking the docks at a boat show or any self-respecting marina, you'll see satellite domes on top of a lot of boats. In the old days (four or five years ago). they were only on large boats; now they're on boats as small as 25 feet. Some carry live TV programming from shore, while others provide links to the internet, data and phone service. But which ones are best?
Each year, Marine Electronics Journal asks top manufacturers to identify the one model in various categories that they define as their Best & Brightest, the one the manufacturers rate highest in their product line for whatever reason. Here's a look at how they responded for the Satellite TV, VSAT (Very Small Aperture Terminals), and Small-Boat Internet, Phone and Date categories:
Satellite TV
KVH TracVision TV3: This compact, NMEA award-winning system has a single cable design and user-friendly interface. It's also easy to install, and is compatible for single-or multiple-channel installations. It delivers TV services around the world, with a crystal-clear picture even in rough seas. (Pictured below, and on the Sea Ray at top.)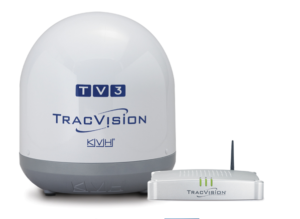 Intellian s6HD: Intellian says its proprietary technology guarantees the fastest signal acquisition and steady reception. The s6HD delivers DirecTV high definition channels to your boat; it's lightweight and has seamless uninterrupted satellite reception for boaters in U,S. waters.
VSAT
Intellian v45C: The v45C is compact and weighs just 50 pounds; it's designed for fishing and recreational boats. The system delivers fast internet and it's easy to install, with a single coax cable connected outside the radome.
KVH TracPhone V7-HTS: You can enjoy fast data speeds, global coverage, HD streaming, popular social apps and more with this marine satellite communications system. It is offered with hybrid airtime for unlimited use and high-speed data channels running at the same time.
Small-Boat Internet, Phone and Data
KVH TracPhone V30: This new ultra-compact antenna delivers data speeds as fast as 6 Mbps download so you can enjoy all the benefits of the Internet at sea. It's easy to install and uses DC power, a plus for smaller boats with a limited power supply. The TracPhone V30 has the modem in the dome, a feature KVH developed to deliver outstanding reception.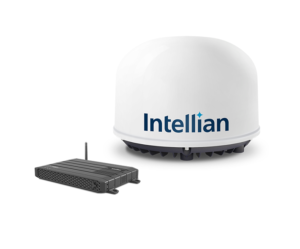 Intellian C700 (pictured above):  The terminal connects to the Iridium Certus network of Low-Earth-Orbit satellites to provide pole-to-pole reception, giving reliable phone and data services wherever you need them. It supports three high-quality phone lines simultaneously, and is so robust that it requires no scheduled maintenance over its lifetime. Read more:
https://nmeaboater.com/content/newsm/news.asp?show=VIEW&readMore=True&a=432#rm