Charleston, South Carolina, is one of the most historic and, to my mind, at least, most enjoyable cities to visit in the United States – particularly if you arrive by boat.
The last time I was there, just a few years ago, I was on an Eastbay 50, coming down from Connecticut, and we arrived at the sea buoy on a mid-September morning. Coming in the long, well-marked channel took a while, and we could see the skyline and then the Battery district, at the juncture of the Ashley and Cooper Rivers that mark the edges of the town, bathed in a golden glow.
On our port side, we passed Fort Sumter where, at 4:30 a.m. on April 12, 1861, confederates fired the first shots of the Civil War at the Union troops manning canons there (see picture below). By that time, Charleston was already established as one of the most important ports in the United States.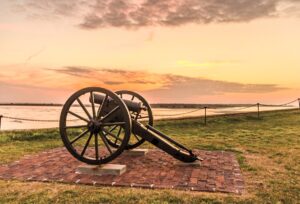 Charleston was founded in 1670 by English settlers, who started the Carolina colony at Charles Towne Landing. Today, the city's history provides much of its charm, with its cobblestone streets, horse-drawn carriages, and pastel antebellum houses, particularly in the French Quarter and Battery districts.
The Battery in particular is worth a visit. It was created as a defensive seawall with artillery during the Civil War, but now it offers a promenade with unbeatable views of the harbor on one side and the city's old homes on the other.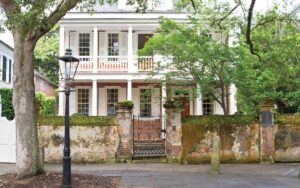 For boaters, Charleston is an ideal stopping point whether you're cruising north or south, on the ICW, which takes you almost downtown, or on the Atlantic. There are several first-class marinas that are only a short cab-ride away from downtown and some of the city's fabled restaurants. They also are only 20 minutes or so away from Charleston airport, so crew changes are easy.
Charleston is a foodie's heaven, and even non-foodies (such as myself) love to sample the restaurants there. Magnolias offers Southern favorites, such as Lowcountry Bouillabaisse. (Magnolias is temporarily closed by a fire but is due to reopen in mid-December). On a much less elegant scale, The Glass Onion offers such Lowcountry classics as catfish po boy and braised pork belly. Read more: https://www.charlestoncvb.com