Two Australian fishermen survived for three days in the outback after their boat capsized and they were attacked by a crocodile. They ended up drinking their own urine for fluid until they were rescued by a passing fishing boat.
The men, 32- and 33-years old, were on a fishing trip on a remote section of the Daly River, about 60 miles south of Darwin in the Northern Territory. Their boat hit a submerged object, they don't know what, and they were thrown into the water.
Almost immediately, they were attacked by a crocodile. This part of the river is known to be infested with crocodiles. They threw all their belongings that were floating in the water at it, until it went away.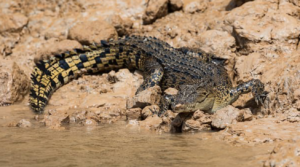 The police later described that section of the country as "completely inhospitable."
Three days later another fishing boat found them. Shane Taylor, one of the men on that boat, told The Daily Mail that he and a friend "were just going for a fish towards the front of the Daly River and we noticed a swag that was washed up on the bank." After a few kilometers, "we saw the blokes. They were waving and obviously fairly agitated. They were extremely happy to see us."
The rescued men were taken to a hospital. Police Superintendent Shaun Gil said, "They were extremely lucky to be alive." Read more:
https://www.dailymail.co.uk/news/article-10205465/Fishermen-drink-urine-survive-boat-sinks-crocodile-infested-river-Australia.html