Phuket, the largest island in Thailand and one of the world's most exotic cruising and charter destinations, is open again. And the Moorings charter base there also is open, with sail and power charters available.
With a heavy reliance on tourism, Thailand's economy took a big hit during the worst of the pandemic, and the country was off-limits to a lot of foreign travelers. There are still protocols (see the Thai embassy link below), but the Thai government adopted a separate plan called the Phuket Sandbox that has allowed vaccinated international travelers to visit the island.
It's easy to get to Phuket; it's on the Andaman Sea, only an hour's plane ride from Bangkok. Once you're there, you can enjoy gorgeous waters, pristine white-sand beaches, remote coves and picturesque limestone pinnacles that seem to grow out of the water.
(I haven't been to Phuket, but I have cruised out of Langkawi, a bit south of Phuket on the Andaman Sea just below the border with Malaysia, on an Eastbay 49. It too had many offshore islands, with beautiful water and absolutely exotic surroundings.)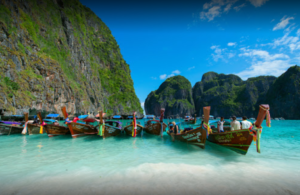 Phuket offers everything from uninhabited islands to villages occupied by modern sea gypsies from the Moken tribe to resorts with a lively nightlife. To the south, the Phi Phi Islands are known as the jewels of the area, while the province of Krabi alone has some 130 isles. If you want a touch of Hollywood, stop by the beach in Maya Bay where Leonard DiCaprio made The Beach.
Meanwhile, some marine preserves where wildlife is protected offer world-class scuba diving and snorkeling. The water is warm and the visibility is excellent. You can run into everything from sea horses to whale sharks.
Cruising around Phuket is safe and navigation is generally line of sight, but you want to watch your depth and water-color changes to stay off the reefs, and you need to respect the eight-foot tidal range.
The best time to visit is from the end of October until May. Monsoon season is from mid-May to mid-October, although mainland Thailand blocks many of the monsoon rains. See the video below and read more at: http://moorings.com
https://www.thaiembassy.com/travel-to-thailand/no-quarantine-phuket-sandbox-plan