Navier Boat is a Silicon Valley startup; it has lots of dreams, but it hasn't built a boat yet. Lyman-Morse, in Camden and Thomaston, Maine, has lots of dreams too, and it's been building Down East and high-tech sail and power boats since 1978.
Now, Navier and Lyman-Morse have formed a partnership. Lyman-Morse will build Navier's first boat, a 27-foot, carbon-fiber, electric-powered, foiling power boat to be unveiled at the Fort Lauderdale show next October. Production models will be ready at the start of 2023.
Powered by two 50kW electric motors, the Navier 27 will foil, or fly, three or four feet above the water at speeds from 18 to 30 knots. At 20 knots, it will have a range of 75 nm. And it can hold up to ten people on board.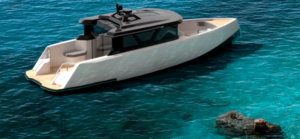 The boat also will have an advanced autopilot feature, an assisted docking system, a hazard alert (to warn the captain of dangers ahead or under the surface), and remote monitoring using a smartphone anywhere in the world. Its foiling system uses a stabilization control borrowed from the aerospace industry.
Navier's design team is under two MIT engineers and includes Paul Bieker, an America's Cup foiling expert. Lyman-Morse will combine the technology and mechanics to actually manufacture the boat.
Drew Lyman, the president of Lyman-Morse, said, "To build a carbon-fiber, foiling, all-electric boat fits well with what we do at Lyman-Morse, plus it's a boatbuilder's dream project."
"There's a lot to be said about working with a shipyard beyond skills and capabilities," said Sampriti Bhattacharyya, a co-founder and CEO of Navier. ""Lyman-Morse is outfitted with the best machines, tools and technologies that will help Navier reach production goals. Drew has enthusiasm for our vision, and his team truly cares about sustainability."
The boat will have a beam of 8' 6" and a draft of 2' with the foils retracted, and 5' 5" inches with the foils extended. See the video below and read more at http://navierboat.com and http://lymanmorse.com