The rich and famous, along with some of the largest and most stunning yachts in the world, are gathering in St. Barts for the holidays, ending with the island's blowout fireworks on New Year's Eve.
St. Barts, of course, has been a cruising destination for the rest of us for years and years. It's an island paradise, one of the most alluring in the Caribbean, filled with a combination of French and Swedish history plus a Caribbean-style cosmopolitan charm.
The island occupies just eight-square miles in the West Indies, but it has 14 spectacular beaches, and the harbor in the capital city of Gustavia is a cruising paradise. For the roughly two weeks surrounding the Christmas and New Year's holidays, the harbor has become a magnet for superyachts; indeed, just a few years ago, some 150 superyachts (78-feet and up) filled the harbor and anchored offshore.
If you were on the right yacht, or walking down the right dock, you'd run into Jeff Bezos, Paul McCartney, Bernard Arnault (head of LVMH), Barry Diller and his wife Diane von Furstenberg, Prince, Leonardo DiCaprio, the Kardashians…you get the idea.
This year, the megayachts are still gathering, but Forbes put together a list of some of the largest that are already there.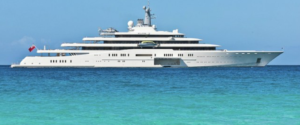 Leading off is Eclipse, at 533 feet the fourth largest yacht in the world (see picture above). Owned by Russian steel magnate Roman Abramovich, Eclipse was built by Blom+Voss in 2009 and cost about $500 million. It has one submarine, two helicopters, three launches, two swimming pools, one disco, several hot tubs, and a crew of 70.
Rising Sun, 454 feet, is next, owned by entertainment mogul David Geffen. In descending order, there is Le Grand Bleu, 371 feet, Russian oil billionaire Evgeny Shvidler; Dream, 348 feet, Greek shipping magnate George Prokopiou; Moonrise, 327 feet, WhatsApp founder Jan Koum; Christina O, 325 feet, formerly owned by Aristotle Onassis, now by Irish lawyer Ivor Fitzpatrick; Queen Miri, 300 feet, casino magnate Sheldon Adelson; Excellence, 263 feet, car magnate Herb Chambers (I was a guest on one of  his earlier yachts in Nantucket a few years ago, but didn't make the cut for this one).
Kismet, 312 feet, owned by Jacksonville Jaguar owner Shahid Khan is in St. Martin, not far away, and Elysian, at 253 feet, owned by Red Sox owner John Henry, is currently in Virgin Gorda.
If you're like me, your invitation to any of the parties on these yachts has been lost in the mail. Oh well, there's always next year. Happy New Year everybody! Read more:
https://www.forbes.com/sites/jimdobson/2021/12/18/billionaire-superyacht-showdown-whos-who-in-st-barths-for-new-years-2022/?sh=714a4b724d92