Here's a different kind of charter in a different kind of place. Infinity RIB Cruises offers charters on its RIBs in the gorgeous waters around Lefkada Island on the Ionian Sea off the west coast of Greece.
The RIBs can take you to some of the most beautiful beaches in the Med, with dazzling white sand and dramatic cliffs, or you can enjoy picnics and water sports on the turquoise waters surrounding the island. Infinity will be more than happy to customize your RIB cruise, all offered with an experienced captain, so you can enjoy your time on board, on the water, or on land.
The charters are flexible. You can stay in a luxury villa and charter the RIBs for day trips, for yacht transfers, or for touring and exploring on your own. They offer the ultimate privacy, and can be chartered for a romantic evening on the sea, an anniversary or a wedding, island hopping, or any special event you might have in mind.
The Infinity RIBs all come with traditional snacks, often home-grown from the owners' (two siblings) garden, fresh fruit and water. And they offer premium wine and beer, water toys, snorkeling equipment, towels, free Wi-Fi, a Bluetooth connection and a GoPro camera to record your Lefkada memories.
In case you need more persuading, see the picture of the mile-long Egremni beach below.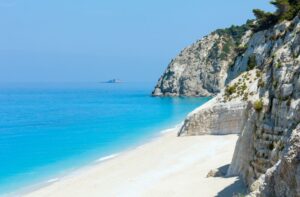 The Infinity fleet includes the 32-foot Amphitrite, with twin 400-hp Mercury Verado outboards. It can hold nine passengers and has a head and shower and electric fridge.
Next is the 30-foot Alcyonis, with a single 300-hp Mercury Verado. It can hold seven passengers and has an electric fridge.
There's also the 25-foot Galene, with a single 250-hp Mercury outboard. It also can carry seven passengers and has an electric fridge. Read more:
https://www.infinity-rib-cruises.com/our-vessels/