In case there's any doubt, Kevin and Allison Jeffries are indeed long-range cruisers. In fact, they just raised their 20,000 nm Nordhavn distance pennant while they were cruising from Huatulco to Chiapas off the Pacific coast of Mexico near the Guatemalan border.
Lifelong boaters, the Jeffries have been cruising ever since they bought their Nordhavn 55, Red Rover, in 2016, sold their house in Seattle and moved aboard full time with their two rescue dogs, Zoe and Max. Their children were grown, and they wanted to take on a cruising lifestyle.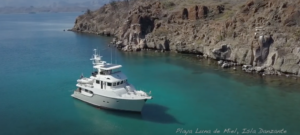 Red Rover is 2005 Nordhavn 55 (hull number 05), and it has a single 340-hp Lugger main engine and a 70-hp Lugger get-home wing engine. It's big, and it's comfortable, with two staterooms below, both with en suite heads, and a captain's cabin and a day head up by the pilothouse. With a sturdy displacement hull, the boat cruises at 8 knots, and tops out at 10 knots.
Because of the pandemic, the Jeffries spent nine months in Loreto, Mexico, on the Sea of Cortez, and loved it. At this point, they think of Red Rover as their home, describing it as "a safe, comfortable, beautiful home" that "has never let us down." And they're happy with their choice of lifestyle, saying they "just want to keep cruising and cruising."
Three months ago Nordhavn sent a film crew down to spend some time with the Jeffries on Red Rover. You can read more at http://comeonrover.com and see the the film below: