The iconic CUBAR powerboat rally from San Diego to La Paz, Mexico, next fall has already filled up with its 50-boat capacity, and is now just putting names on a waiting list. One of the premiere cruising events on the West Coast, the rally will leave the San Diego Yacht Club on October 30 and arrive in La Paz, 910 nm later, on Nov. 13.
CUBAR, standing for Cruise Underway to Baja Rally, is sponsored by the San Diego club, and Nordhavn, which has eight boats in this year's event, just signed on as another sponsor. Nordhavn set the bar for powerboat rallies with its Nordhavn Atlantic Rally in 2004, when 18 boats cruised from Fort Lauderdale to Gibraltar.
Bruce Kessler, the circumnavigator and film director, was involved in the Nordhavn transatlantic rally, and in 2007 he started a powerboat rally from San Diego to La Paz and called it FUBAR, which stood for Fleet Underway to Baja, or whatever.
The San Diego Yacht Club subsequently took over the rally (and renamed it). The idea behind the rally is that there's safety, and friendship, in numbers.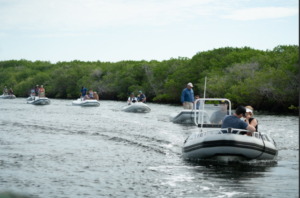 The rally is highly organized and regulated. Boats must be able to cruise at least 8 knots offshore and have a range of at least 450 nm. The club has mandatory checklists and even a pre-cruise inspection. It will hold seminars on Sept. 17 and 18 covering medical care, provisioning, night cruising, safety and other appropriate subjects.
Each captain is supposed to have at least some coastal cruising experience, but the rally staff includes professional captains, a medical doctor, mechanics and support personnel with experience in dealing with cruising boats in Mexico.
The rally is held every other year. The last one was in 2019; the 2001 event was cancelled because of the pandemic. The boats this year are scheduled to make stops in Ensenada, then Turtle Bay, Bahia de Magdalena (Mag Bay), San Jose del Cabo, and finally La Paz in the Sea of Cortez.
Jim Leishman, the Nordhavn VP who was on the original 2007 FUBAR on a client's Nordhavn 55, said, "It has the essence of a Nordhavn event and aligns with our mission to promote safe, enjoyable cruising. It's the perfect vehicle for anyone looking to baby-step their way into a grand adventure."
There are parties along the way, with excursions on land and on dinks. The pictures here are from the 2019 stop in Mag Bay. Read more at http://cubar.sdyc.org and http://nordhavn.com and see the video from the last rally here: