It's never too soon to start planning for your holiday cruise next winter, so you may want to take a good look at Paul Allen's Octopus for a charter in Antarctica. The eight-deck, 414-foot superyacht, one of the largest and most luxurious yachts in the world, is now available for charter there for Christmas or New Year's, starting at $2.2 million a week.
Launched by Lürssen, the German yard, in 2003 for world exploration, Octopus has an Ice Class A-rated steel hull, so that cruising in the Antarctic should be safe. Allen, one of the richest people in the world, reportedly paid $200 million for the yacht then.
Decades before, as a recent graduate of the University of Washington, Allen had persuaded his childhood friend Bill Gates to drop out of Harvard to co-found Microsoft. (Gates later tried to buy Allen out, offering him $5 a share, which Allen declined; Microsoft stock has since split nine times and is now trading at $274.)
Allen, who never married, died in 2018 and Octopus was sold to an unnamed buyer for about $275 million. It's now in the Camper & Nicholsons' charter fleet.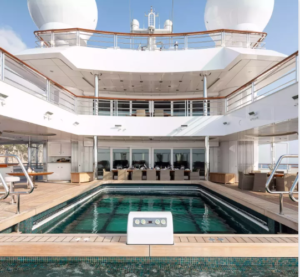 The yacht has 13 cabins for 26 guests; the owner's master suite has a private elevator and an observation deck. For shore access, it has his-and-hers helipads, seven tenders (the largest is 43-feet), a landing craft, two submarines (one can carry eight guests and two crew underwater for eight hours), a vast swimming pool and pizza oven on the bridge deck, a gym, glass-bottom aquarium, library, movie theater, and a fully equipped dive center.
Allen was a sports and music enthusiast (he owned the Seattle Seahawks and the Portland Trail Blazers), so the yacht has a basketball court as well as an ocean-facing recording studio. Octopus was a regular at the Cannes Film Festival; at a party there in 2016, Allen got out his guitar to play for the guests, including Mick Jagger. Allen also once had an on-board jam session with Stevie Wonder.
Octopus charters with a crew of 42. It's powered by eight 4,000-hp MTU diesels, with a top speed of 19 knots and a cruising speed of 12 knots. At 12.5 knots, it has a range of 12,500 nm.
Specs.: LOA: 414'; Beam: 68'; Draft: 19'; Disp.: 8,850 tons: Fuel: 224,000 gals.; Water: 175,000 gals.; Power: 8×4,000-hp MTU diesels. Read more at http://camperandnicholsons.com and see the video below: