SILENT-RESORTS and EcoIsland Development just announced that they're building what they say is the world's first fully sustainable, zero-carbon, solar-powered yacht and residents' club in the Bahamas.
Named Club Ki'ama Bahamas, the eco-friendly development is only a ten-minute boat ride from Great Exuma Island. Construction is scheduled to start in June. People who buy homes there also will have the use of SILENT-YACHTS luxury power catamarans for a specified number of days. (This is the first SILENT-RESORTS destination property, in proprietary ownership with SILENT-YACHTS.)
Club Ki'ama Bahamas will be a new enclave on Elizabeth Island, and it is the first equity club to offer sustainable solar homes and solar yachts in co-ownership. The club will have 16 four-bedroom homes and eight yachts, plus eight whole-ownership homes that include a share in a SILENT-YACHT.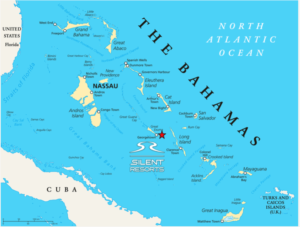 Owners will have five weeks of vacation each year at the club, including use of the oceanfront Ki'ama Beach Club, spa and restaurant, plus ten days on a SILENT-YACHT. The club is on 36 acres of Elizabeth Island, a private island in Elizabeth Harbour, and it will have a two-acre protected marina and six private beaches.
The development will take up just 18 percent of the island's land area, leaving most of the property undisturbed. The Beach Club will be built in "tent and timber" style, using natural fabrics, bamboo and timber with little impact on the environment.
The property is easy to get to. You fly into Exuma International Airport and take the club's electric water taxi over to the new development. The introductory ownership price is $525,000. The club will have a fleet of eight crewed and catered solar-powered SILENT YACHTS power cats from 60 to 80 feet. There are more than 365 cays and islands to explore in the Exumas. Read more: