Wellcraft is coming back – back, at least, to the world of fast cruising boats where it once was a major player.
Now owned by the Beneteau Group, Wellcraft just announced that it's making a new 35-foot cruiser, powered by three outboards with 1,050-hp as part of a new direction. We'll have more details in a few weeks, and the first boat, the Wellcraft 355 (pictured above), will be displayed at the Cannes show in September.
I well remember Wellcraft's heyday in the 1980s, when Bob Long was running the company, Irwin Jacobs owned it, and Don Johnson, aka Sonny Crockett on the megahit TV series Miami Vice, gave it a red-hot international temperature setting on his special edition Wellcraft Scarab 38 KV.
I also well remember one Wellcraft dealer meeting in Sarasota at that time when the company had Johnson make a special appearance at its final banquet. He made a little speech, danced with the wives, and definitely appeared to have a high time.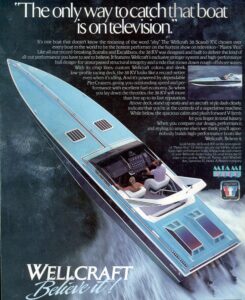 Heady days. Performance boats were hot. But Wellcraft's bread-and-butter boats, even then, included a Coastal line of family cruisers that were equally loved by its dealers and owners. People kept them for years. Wellcraft also made Californian trawlers for many years; they appear in boat searches and Great Loop forums to this day .
But times, and company ownership, changed. Miami Vice ended in 1990 (although its iconic theme song lives on).  The luxury tax hit in the early '90s, and Wellcraft suffered. Wellcraft wasn't the hot company for many years.
Beneteau bought Wellcraft in 2014; it's now making open fishing boats from 20 to 35 feet. Two years ago, Beneteau appointed Nick Harvey, who had been running sales for Beneteau's Jeanneau and Prestige lines, as brand director for Wellcraft (and Four Winns).
Now, Harvey is orchestrating a comeback with the Wellcraft 355, pointing the company in a new direction of adventure cruising. "We're creating a new generation of game-changers in the world of adventure performance yachts," he said, "built for our ultra-passionate clients." He said the new boats will be "ultra-seaworthy and definitively robust," designed for "high-intensity outings." Stay tuned. And read more:
http://wellcraft.com/newchapter