If you want to give yourself a treat this summer, take a trip up to Quebec, specifically Quebec City. With its rich history, vibrant French culture and large, modern marina, it's one of the most alluring cruising destinations I've ever experienced.
In the case of Quebec, getting there is half the fun. In 2014, George Sass, Sr., the photographer, and I cruised 495 nm from New York City (actually, Liberty Landing on the New Jersey side, across from downtown Manhattan) to Quebec City, going up the Hudson to Lake Champlain and then entering Canada.
Lake Champlain itself is a great boating area, but heading north is an entirely different experience. You have to take the 70-mile long Chambly/Richelieu Canal, with its ten locks, to Sorel on the St. Lawrence, and then it's about 100 nm downstream to Quebec.
But the trip on the canal, although slow, is absolutely beautiful; it seems that you're crossing a piece of French countryside. We stopped for the night about halfway, at a nice marina in the village of Chambly, and we both felt as if we were actually in France.
The currents in the St. Lawrence can be awesome, and you have to watch them as you get close to Quebec City. You have to go through one lock to get to the marina there, but it was efficient and easy. We emerged at the Port Quebec Marina, which is walking distance to the charming historic district of Old Quebec, with its winding, cobblestoned streets, French cafes and innumerable boutiques.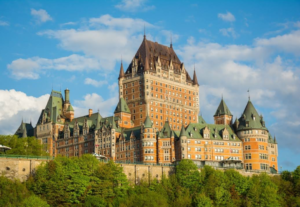 The marina is modern and large, with 415 slips, including 100 transients, and it can handle boats up to 200 feet. The restrooms and showers were also modern and large.
It's then easy to immerse yourself in Quebec's history. Samuel de Champlain, the explorer, founded a French settlement there in 1608, adopting the native Algonquin name that sounds like Quebec and means "where the river narrows."
The growing city was the scene of savage fighting between the early French and British forces, since both wanted to control the river and its shipping routes to the natural resources farther west. British troops captured the city from the French on the Plains of Abraham in 1759, and then they defeated an American force that tried to take it in 1775, at the start of our Revolution.
The Plains of Abraham today serve as Quebec's park, similar to Central Park in New York, and offer a wonderful walking destination. Another destination is the Dufferin Terrace, basically a long boardwalk along the south side of the iconic Chateau Frontenac hotel (pictured above) with sweeping views of the St. Lawrence.
Bring walking shoes. The town is mostly uphill from the marina, once you get past the old district. But you can take a funiculaire from the old district up a vertical cliff at a 45-degree angle directly to the Dufferin Terrace and Frontenac area.
Read more at https://www.quebec-cite.com/en/what-to-do-quebec-city/old-quebec-things-to-do and see the video below: