A 72-foot yacht caught fire and was quickly engulfed in flames in the Piscataqua River near New Castle, New Hampshire, on Saturday afternoon. The three people and two dogs on board were rescued from the water by a good Samaritan boat.
The burning boat drifted out of the harbor with the tide and across the state line into Maine. It sank near buoy 2KR buoy off Kittery just two hours after the first emergency radio call, according to the New Hampshire Marine Patrol.
The yacht, named Elusive, caught fire as it was cruising down the river, heading for the Wentworth Marina. A passenger saw black smoke coming from below deck; the boat filled with smoke quickly and the three people and two dogs on board jumped overboard.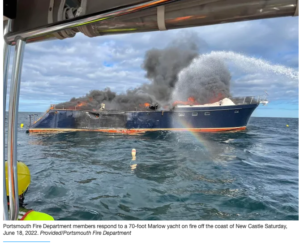 The crew from a nearby boat pulled them from the water and took them to the marina. The New Castle Fire Department then took them to Portsmouth Regional Hospital, where they were treated and released. Two, Arthur Watson, 67, and Diane Watson, 57, were from New Canaan, Connecticut, and Jarod Tubbs, 33, was from Jupiter, Florida.
A fire boat from Portsmouth was the first to arrive and it was joined quickly by others from Newington and Salisbury, Massachusetts, as well as the Coast Guard. "Whatever happened on the boat happened fast, and they had to jump in the water," said Todd Germain, the Portsmouth fire chief.
The Coast Guard said it was investigating the cause of the fire. The boat was built in 2007. Read more:
https://www.nbcboston.com/news/local/72-foot-yacht-catches-fire-off-nh-coast/2751484/?fbclid=IwAR3wqwzIyanwzrbzqVzO1PMY8i30_85kAbgf0RRMCgaJlkRtiXtLkfPSu5Q