Riva, one of the most glamorous boat builders in the world, and Venice, one of the most glamorous cities in the world, seem to go together. So it seems natural that Riva just held its over-the-top 180th anniversary there, a black-tie affair with its own movie premiere, a performance at La Fenice opera house, sports stars, and even the unveiling of a new limited-edition Riva Aquarama, the "Anniversario," on the Grand Canal in front of the Riva Lounge in the Gritti Palace.
Riva was founded in 1842, when Pietro Riva, a local craftsman, started repairing fishing boats damaged in a storm on Lake d'Iseo in northern Italy. Venice has a much longer history, of course, dating to 568 and the fall of the Roman Empire, when people from the mainland fled to its canals and islands for protection. The city-state became a powerhouse of world trade in the 9th Century. It is one of the most-visited cities in the world today.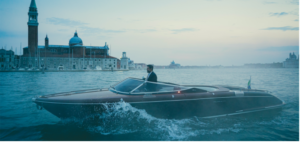 The Riva gala was sponsored by the Ferretti Group, the builder's corporate parent. "We chose Venice and La Fenice because they are unique places in the world and, like us, they live in magical harmony with the water, art and beauty," said Alberto Galassi, CEO of the Ferretti Group.
The Riva Aquarama has its own 60th anniversary this year. They were built of mahogany with a large sun pad over the engine compartment and quickly became the late Carlo Riva's most iconic designs, owned by Brigitte Bardot, Sophia Loren, Grace Kelly, James Bond, and even George Clooney today.
Riva now is making a special limited-edition of 18 Aquaramas to celebrate its 180 anniversary.
The Venice celebration featured appearances by David Beckham, the British soccer superstar; Charles Leclerc, the Formula 1 racer, and Pierfrancesco Favino, the Italian movie star. You can read more at http://riva-yacht.com and  see the movies they made for Riva below: