Aquila power catamarans are marking a major milestone by celebrating their tenth anniversary this summer. The boats, ranging from 28 to 70 feet, are made by Sino Eagle in China and are sold around the world to private owners. They also are put into the charter trade, primarily by MarineMax Vacations, where they have enjoyed a remarkable success and growth.
MarineMax Vacations, of course, is part of MarineMax, the retail giant with headquarters in Clearwater, Florida, and 90 locations in 22 countries around the world; it's the exclusive global distributor for Aquila.
In the past ten years, Aquila says it  has sold more than 500 boats around the world, in the U.S., Australia, Canada, Mexico, Singapore, Spain and many other countries. Chuck Cashman, the MarineMax Chief Revenue Officer, says that, "Today, Aquila is a top-ten brand for all yachts sold 40 to 60 feet, and the number one power catamaran brand worldwide."
MarineMax Vacations has its largest charter fleet in the British Virgin Islands, with Aquila power cats from 36 to 54 feet. The 36 has two cabins; the 44, three cabins; the 48, four cabins; the 54, five cabins.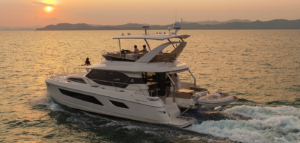 You can charter them as bareboats, with a captain or with a crew; you can even arrange for a group charter.
The value of putting a brand of boats, such as Aquila, in a charter fleet goes way beyond the charter itself. It introduces the brand to a new audience, with the idea that people who have such a good time on a charter vacation will think about actually buying a similar boat once they get back home.
It also plays into the try-before-you-buy concept, allowing potential buyers to spend real time on a boat they're thinking about buying, under real circumstances. It's one thing to see a boat at a boat show or in a dealership; it's quite another to actually live on it for a week.
MarineMax Vacations also has an charter owner program, where you can buy the boat as an investment and receive regular payments from MarineMax as it charters it. And you can spend charter time on the boat, or a similar one, for years to come. Read more: