U-Boat Worx, the Dutch company that's been making personal submersibles since 2005, just unveiled plans for a 115-foot electric super-sub that it says "has been designed to host the most prestigious and memorable events on the planet."
That may be a bit of hyperbole, but the new UWEP, or Under Water Entertainment Platform, would certainly let you channel your inner James Bond, at the very least. It can hold 120 passengers (plus crew), cruise underwater for up to 24 hours at 4 knots, and dive down to 650 feet, all under battery power.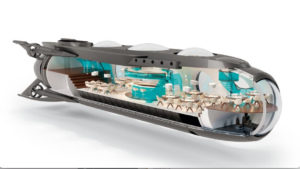 The company suggests that the UWEP could be used as an underwater restaurant with seats for 64 people, a deep-sea casino, or for corporate events, weddings and stage performances, all "in the most unique setting imaginable."
The sub will have about 1,600 square feet of floor space so there's certainly room to move around, and 14 picture windows so guests can see the underwater world outside. A series of exterior lights will illuminate the surroundings.
It will be fully pressurized and air conditioned, and passengers will be able to walk around, just as they would on a yacht or cruise ship. Luxurious heads and a galley are standard. The sub can be recharged and reprovisioned on a floating dock, where guests can climb on board via two large access hatches.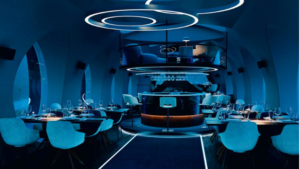 So far, U-Boat Worx has delivered about 50 subs to the superyacht and cruise-line market, but most of them are much smaller, holding from two to seven people. The UWEP is an exponential leap in size, and ambition.
Bert Houtman, founder and CEO of U-Boat Worx, says, "The UWEP will shake up the submarine and hospitality industry and lead the way in bespoke underwater events. We will not only present a stellar experience for the most discerning clientele, but also a business opportunity that will benefit entrepreneurs and contribute to our understanding of the oceans." Read more: