A Dutch startup named Tanaruz has created a new way to make boats, recycle them, and then build you a new one using material from the old one when you want to move up.
Tanaruz Boats has just launched its first boat, a 15-foot electric model called the Tanaruz DSI (pictured above), made by a 3D printer and a combination of polypropylene flakes with a blend of fiberglass. The flakes are melted to a heat of 200 degrees and then sprayed in a continuous stream, layer on layer.
The ABB printer uses a Track Motion system and works 24 hours a day. Right now, it can make two boats a week.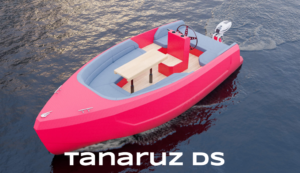 When you want to replace the boat, Tanaruz will take it back, shred it, melt it and then use that material to print a new one. You can order a different design (an enclosed cabin, say) or a larger boat, and Tanaruz will print that for you, with as little as a 10 percent increase over the original price.
Tanaruz Boats is the brainchild of Alex Shifman, a naval architect. He took the idea to traditional builders in Holland, but couldn't get them interested. He started his own company, called RAW Idea.
Tanaruz makes four basic models, from 15 to 23 feet. It launched the first boat in June, and now has contracts for six more. The 15-foot Tanaruz DSI costs about $25,000, equipped with a 1.1kW Aquamot Trend electric motor with two AGM batteries, giving it a range of about four hours, or 31 miles.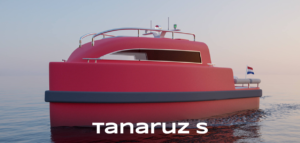 One advantage of the 3D printer operation is that you can customize your boat, changing the color, the shape, the engine, whatever. Tanaruz's website says, "You select it, we print it."
The company says it wants to make boating affordable for a large audience, while making a product that's sustainable and has minimal environmental impact. It uses what it calls a circular economy that prints, delivers, consumes and shreds, in that order.
So far, the size of the boats is limited to about 26 feet by the size of the robot arm on the printer. All that can change, of course, in the future. Stay tuned.
Read more at http://tanaruz.boats and see the video below: