If you think a stand-up paddleboard is fun, take a look at the new all-electric foiling Rise that Sea-Doo just unveiled at its annual dealer meeting in Canada.
The new Rise is different from most existing foiling boards in that it can be fun for the entire family, transitioning from a basic surfboard to a flying-above-the-water, adrenaline-pumping foiler as the rider gains experience or confidence.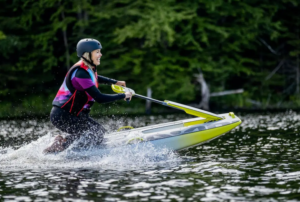 You can enjoy it on the water without foiling, if you're starting out, riding on your knees or even lying down. The handlebar is retractable so you can decide when you want to use it for extra balance. Or you can fold it down and leave it lying flat in its recessed compartment on deck.
Then, when you get your sea legs, you can stand up, deploy the foil and hang on to the handlebar. You control the speed with a handheld remote. The foiling ride is basically silent, and fast.
We don't have any other details yet. Sea-Doo says it will announce specs and pricing for the Rise later this month. It is scheduled to be available next summer.
Read more at https://www.sea-doo.com/us/en/sea-doo-rise.html and see the video below: