You can, of course, sail or cruise your own boat to the Galápagos, which are 520 nm off the coast of Ecuador and 960 nm from the Panama Canal, assuming you're a competent enough skipper and you have a well-found boat. Or, if you want to relax and let somebody else stand the dog watch, you can charter a superyacht there and enjoy one of the most exotic destinations in the world.
Straddling the equator, the Galápagos is an archipelago of 189 volcanic islands with unique land and marine ecosystems influenced by three converging ocean currents – Humboldt, Panama, and Cromwell. It has isolated terrain with a diversity of plant and animal species, including many not found anywhere else in the world.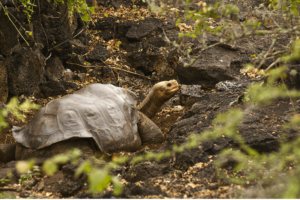 The islands' first known European visitor was a Bishop from Panama who landed there pretty much by accident. He named them the island of the tortoises, or the Galápagos. (The giant tortoises there now grow to weigh more than 900 pounds and live for 100 years.)
The most famous visitor was Charles Darwin, on the second voyage of the HMS Beagle in 1835; his studies there formed his theory of evolution.
Now a province of Ecuador, the Galápagos were named a UNESCO World Heritage Site in 1978. Each island seems to have a different landscape, from mountains with volcanos to arid zones to white-sand beaches with turquoise waters, all the home of the tortoises, marine iguanas, penguins, and flightless cormorants and blue-footed boobies.
Aqua Expeditions just started a charter operation there on the 163-foot Aqua Mare; the company says it's the first superyacht to make a permanent berth in the Galápagos. Built by CRN in 1998 and rebuilt in 2018, it can hold 16 guests in seven staterooms, including an 861-square-foot owner's suite that comes with its own dedicated steward.
There are 14 crew, including a cruise director, plus two English-speaking naturalist guides.
You can take day trips to the Galápagos, but you also can enjoy the Aqua Mare's Jacuzzi, sun deck, huge beach club, and sun-lit salon with panoramic views. The yacht comes with kayaks, SUPs and snorkeling gear, plus two 19-foot tenders and a SOLAS rescue tender.
Aqua Mare is powered by twin 1,978 CAT diesels, providing a range of 4,000 nm at a cruise speed of 16 knots. Read more at https://www.aquaexpeditions.com/galapagos-cruise/ and see the video below: