Boatsetter, the innovative boat renting company, is getting bigger and better. Founded in 2014, Boatsetter just raised $36 million in Series B funding to support further growth.
The new funding came from Level Equity, Suntex Marinas, Certares and other companies in a placement by J.P. Morgan Securities LLC. Boatsetter's announcement said the funding will enable it to expand its features, boat inventory and "experiential offerings."
Boatsetter, basically an Airbnb on the water, now has more than 50,000 boat listings in 700 locations around the world. The company, based in Fort Lauderdale, says it offers the most diverse collection of boat rentals.
Boatsetter has had steady growth over the years, doubling the bookings from 2020 to 2021. An outgrowth of the sharing economy, Boatsetter lets boat owners make some money from boats that otherwise would probably be sitting unused at their slips. It also enables people, from old salts to newbies, to rent a variety of boats in a variety of locations, from anywhere near home to places they visit on business or vacations. Boatsetter has a list of Coast Guard-certified captains if you lack experience or want to rent a larger boat.
"Our mission has always been about celebrating the ways that the water brings people together, and making incredible on the-water experiences more affordable and accessible to everyone, everywhere," said Jaclyn Baumgarten, Boatsetter's co-founder and CEO. She said the new funding would bring "more boats, experiences and markets into the Boatsetter community."
Boatsetter says it pioneered a peer-to-peer boat rental insurance policy, with exclusive coverage from GEICO and BoatUS. Private boat owners can rent their boats through the Boatsetter platform and know they are covered as part of the rental contract.
"We were attracted to how Boatsetter has taken the often intimidating arena of boat rental and ownership and made it remarkably intuitive," said Gautam Gupta, a partner at Level Equity. "They've cracked open a market for water experiences that was previously quite narrow – attracting hundreds of thousands of new boaters and boat owners of all ages and backgrounds in the process."
Boatsetter now promotes rentals for wakeboarding, sunset cruises, party boats, fishing excursions and even what it calls sand-bar hopping.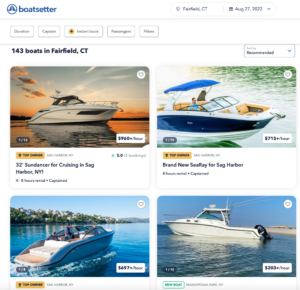 To see how it works, this morning I clicked on Boatsetter.com and wrote in my home town of Fairfield, Connecticut, as where I wanted to rent a boat. You can see from the screen shot above that Boatsetter said there were "143 boats in Fairfield, CT." I could rent a 32-foot Sea Ray for $960 an hour, for example, or another Sea Ray, a bow rider, for $715 an hour.
The problem was that the first three boats listed were all in Sag Harbor, on the tip of Long Island. Google says that's a 2 hour and 46 minute trip if I take the Port Jefferson ferry across Long Island Sound. The fourth boat was in Massapequa Park on the south shore of Long Island, 1 hour and 30 minutes away. Read more: