You still have some time left for a late fall cruise, or you can plan now for next spring and summer. Either way, European Waterways has a fleet of luxury hotel barges in Europe and the UK where you can enjoy first-class service and accommodations while cruising through some of the most historic and beautiful waterways of the world.
Here's a small sample of the barges, the routes and the opportunities to immerse yourself in the local culture along the way: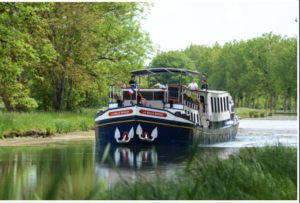 La Belle Epoque is a 12-passenger deluxe hotel barge, with wood paneling, custom seating, a spa pool, and marble cabins and staterooms and a six-person crew. It cruises the Burgundy Canal, where you can take daily excursions that include a champagne tasting, a dinner with a baroness in her chateau, and a visit to the Abbaye de Fontenay, a UNESCO World Heritage Site. Founded in 1119 by St. Bernard, the abbey reflects the ideal of self-sufficiency practiced by the earliest communities of Cistercian monks with its austere architecture, church, sleeping quarters, bakery and ironworks.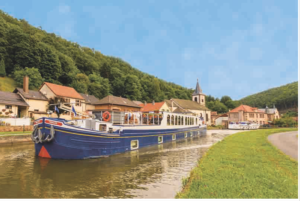 Panache also holds 12 passengers, and it has one of European Waterways' most diverse schedules, cruising Holland in the spring, France's Champagne region in early summer, and Alsace and Lorraine from July to October. The vessel's yacht-like  design includes brass and mahogany fittings,  panoramic windows, leather chairs and polished hardwood floors. It also has a large sundeck for relaxing and al fresco dining.
Land excursions from Panache include a Champagne tasting at Moët & Chandon, and a visit to Epernay, the self-proclaimed capital of Champagne. In Alsace and Lorraine, you can watch glassblowers in action, ride along the Alsace Wine Route and have more private tastings.

The Scottish Highlander, at 117 feet, has the atmosphere of a large country home, with tartan furnishing, wooden paneling, and leather Chesterfield sofas. A well-stocked open bar features some of Scotland's finest single malt whiskies. A cruise through the Scottish Highlands includes a  private tour and tasting of the Dalwhinnie distillery, a visit to Eilean Donan and Urquhart castles, and stop along the banks of Loch Ness.
European Waterways focuses on the culture, history, fine wine and gourmet cuisine of the various regions the barges pass through. The barges often cruise along inland waterways that are not accessible to larger vessels, giving guests opportunities to hop off and explore on their own via bicycles or on foot. The company also offers chauffeured excursions to locations from wine tastings to tours of  private homes.
The largest luxury hotel barging company in Europe, European Waterways has more than 40 years' experience and a fleet in nine countries. Read more: