A week after Hurricane Ian swept across Southwest Florida with an apocalyptic force of 150-mile-hour winds and a six-foot storm surge, the full scope of its damage is coming into focus.
So far, 127 people have been killed, including 33 who drowned just in Lee County, the area around Fort Myers, Fort Myers Beach, Pine Island and Sanibel Island. Several hundred thousands of homes and businesses were destroyed. People lost their homes, their cars, their jobs and, if they had them, their boats.
The Coast Guard, National Guard and local search-and-rescue organizations rescued 3,800 people by helicopters, boats and emergency vehicles. The United Cajun Navy showed up to help.
Entire communities were wiped out. CNN reported that "homes are not livable on islands cut off from Florida, with alligators running around." The mayor of Sanibel, with 6,400 permanent residents, said the island is "uninhabitable." One woman on Sanibel said the high-water mark inside the first floor of her home was six feet high. The 104-feet-high Sanibel Light, built in 1884, was still standing, but the buildings around it were swept away.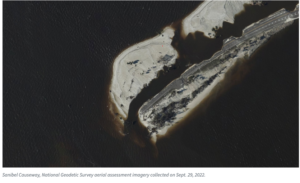 The causeway from Fort Myers to Sanibel was cut in five places (see picture above); the causeway to Pine Island was cut also. The only way to reach those islands was by boat or helicopter, although yesterday a temporary bridge was opened to Pine Island.
Initially, 2.5 million people were without power, but 42,000 linemen were working to restore it. Thousands of people had no running water. Lee County was setting up shelters for people who suddenly found themselves homeless, as well as eight different locations to distribute food and water.
Boats were washed up on roads and against buildings; at least one was impaled by a piling on its dock. Marinas were devastated; an NBC reporter described "boats stacked up like dominos."
The commercial fishing fleet was hit hard. At least two large shrimp boats, the Renee Lynn and the Kayden Nicole, were washed up on land. Charter boats were no longer floating.
The boating infrastructure was decimated. The MarineMax Naples Yacht Center suffered some damage and was closed. The Marina at Naples Bay Resort was closed, as were the City of Fort Myers Yacht Basin, the Marina at Edison Ford, Gasparilla Marina, and almost all others in the area. The picture at top, taken by a NOAA satellite, shows the remains of Legacy Harbour Marina in Fort Myers.
One woman wrote on Facebook that the staff of her marina sent a her a picture of her cruising boat there; it was still standing, but the hard top on the flybridge was gone. She knew she was lucky and wrote that "honestly, I never liked it."
It will take quite a while for the boating community to recover. Even after all the streets and marinas are cleaned up, there certainly will be shoaling and changes in the waterways. The Coast Guard can replace the ATONs fairly quickly, but the marinas will have to rebuild, and people will have to repair or replace their boats. The insurance companies will be busy.
Cruising people will have to rework their plans until the boating infrastructure recovers. Fort Myers is the start of the Caloosahatchee River that leads to Lake Okeechobee and the route to the east coast. Now anyone wanting to get to the Atlantic will have to go down to the Keys, a considerable detour. You can cut across at Marathon, or go all the way down to Key West, although it too was hit by the storm. Read more: