SamBoat, the online company that's leading the European boat rental market, is expanding to the United States. Indeed, it has started a rental fleet in Florida, in a partnership with Dream yacht Charter, and it plans to have a fleet of 2,000 rental boats across the U.S. by the end of 2023.
So far, SamBoat has 50,000 boats in the water for rent at 1,400 destinations around the world. It basically is an online boat rental platform that connects boat owners and renters; it works much the same as Airbnb.
The idea is that people who don't own a boat, or own a boat in one place but are visiting somewhere else, can rent a boat for a day, or more. And people who own a boat, but aren't using it all the time, can get some income by renting it to someone else.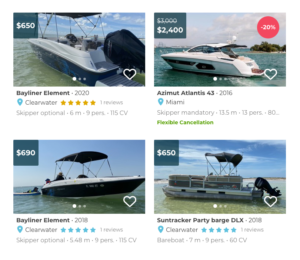 The SamBoat site already has many boats for rent in Florida. The page above is a sample listing for a day in the middle of the month.
You can rent a boat and drive it yourself, if you have enough experience, or you can rent a boat with a captain. When you go on line to pick the boat, you submit your CV of boating experience; it's up to the owner to then approve you for that particular vessel.
You pay on line, then meet the owner on the boat at the agreed upon time and sign the rental agreement. At the end of your cruise, you post a comment on the SamBoat site about the quality of the boat and your experience with the owner; the owner also posts a comment from his or her perspective.
Dream Yacht Charter bought SamBoat in 2018. Beneteau is an investor in Dream Yacht Charter, so SamBoat has many Beneteau brands. Beneteau also owns Rec Boat Holdings in the U.S., the builder of Four Winns, Wellcraft, Scarab and Glastron. Read more: