Cooper Island, a small island in the British Virgin Islands, seems to have it all: Location, a boutique-like resort along a sloping white beach, a mooring field for visitors, snorkeling right off your boat, and a western view for fantastic sunsets.
Cooper Island is close to Tortola, home of the larger charter fleets, and to Virgin Gorda, where The Baths are on almost everyone's charter itinerary. If you don't have a boat, you can get there on a water taxi from Tortola.
The Cooper Island Beach Club is now fully restored from the hurricanes of 2017. It's a family-owned, eco-resort on the northwest shore of Cooper Island, with 12 hotel rooms, a restaurant, rum bar, coffee shop, and solar-powered brewery.
The main anchorage at Manchioneel Bay has 30 mooring balls for vessels up to 60 feet. It also has clear turquoise water with a grassy bottom; with any luck you can see sea turtles and a variety of fish from your boat.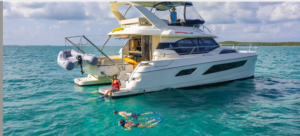 You can snorkel there or launch your dink for a short ride to Cistern Point, where the snorkeling is superb. It has smaller mooring balls for dinghies. The bottom is sloping there, with varying depths, and lots of underwater activity.
Little Carvel Rock offers more snorkeling possibilities and a touch of history. Just up a hill there are the remains of a fort dating to the 19th century, where the walls were three-feet-thick to fend off the cannonballs.
For more diving, other shipwrecks are along Wreck Alley, where vessels were sunk to form artificial dive sites and fish habitats. The wreck of the RMS Rhone is not far away.
Cooper Island is a favorite first day, or last day, for the MarineMax Vacations charter fleet based on Nanny Cay on Tortola. The fleet has a selection of power catamarans from 36 to 54 feet.
Read more at https://www.marinemax.com/vacations/british-virgin-islands/cooper-island?utm_source=Facebook&utm_medium=OrganicSocial&utm_campaign=SocialVACcooperIsland&fbclid=IwAR0hbu1U42JlrrsyT-OlIk267IbPMg2kJ4ZkDfzEAD5SALXGINGqAdgzcko  and see the video below: