The captain of a Doggersbank 97 explorer yacht just wrote about his trip to Robinson Crusoe Island, yes, that Robinson Crusoe Island, the one that the fictional Robinson Crusoe was stranded on in Daniel Defoe's 1719 book that became a classic. And, it turns out, Robinson Crusoe Island is a terrific place.
The island is a bit remote, about 416 miles off the coast of Chile in the South Pacific. That's why the 18th century mariner Alexander Selkirk was stranded there for four years before he was rescued (the real back story to Defoe's book). It is the largest in the Juan Fernandez Archipelago, and it's best known today for its clear water, world-class diving, and exotic wildlife, including the firecrown hummingbird and the fur seal. It also has a bit of history with  pirates and buried treasure.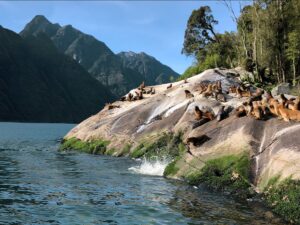 Scott Whittaker has more than 30 years of blue-water cruising under his belt, including nine as the captain of the Doggersbank Gayle Force. Three years ago, just before the Pandemic shutdown, he and the owners of Gayle Force completed a world tour. "We ended up doing 28,000 miles under 10 knots in a year, just for the point of circling the globe," he wrote recently in a posting for Vripack, the Dutch designers of Doggersbank.
"Without a doubt," Whittaker wrote, "the top of my list of places in the world to return to aboard Gayle Force is Robinson Crusoe Island. It's just a really cool island that very few people go to."
Gayle Force got there after cruising from Florida to the Antarctic, Patagonia and then Robinson Crusoe. "What spurred us to head to Robinson Crusoe was the very fact that not many people go there," Whittaker wrote. "The owners prefer it when there are few white boats on the horizon. They're active people who are not about being seen. They really enjoyed the hiking trails and wilderness that if offered."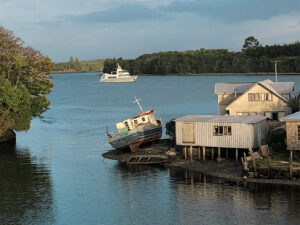 Getting there wasn't easy, 'We took a beating out there," he wrote. "It was tough water, and we were towing out 29-foot safe boat. More than worth it though."
Doggersbanks are the result of Vripack's design brief to create safe, durable yachts with elegant and comfortable interiors that can make the owners feel at home cruising around the world. Dick Boon, the founder of Vripack, founded Doggersbank in 1968. Since then, more than 750 Doggersbanks have been built; the lineup now has 67-, 77-, 87-, and 97-foot models. Read more: