The German startup eD-TEC just unveiled its new eD-QDrive all-electric drive system at the big METSTRADE show in Amsterdam, and says it can power everything from tenders to 98-foot yachts.
The drive system is lightweight, scalable, and organized around a plug-and-play system for fast and easy installation. It was developed by the "Believer Team" at eD-Tec in Munich, which was founded by Michael Jost, the former chief strategist for the VW Group.
The drive is a complete system with a surface-drive prop working through an AI box and a battery bank to a helm interface. It can be used for as many as four installations for a power range from 50kW to 2,400kW. A modular battery bank provides power from 80kWh to 320kWh. The stackable batteries run on an 800-volt bus for fast charging.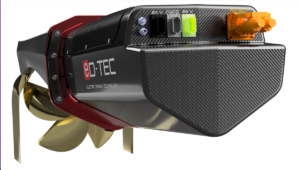 The drive unit, the eD-QDrive, weighs just 44 pounds; the entire drivetrain weighs 220 pounds. All the components are housed in a stern unit that attaches with a plug-and-play interface to the props and gearbox.
A central AI box is coupled to cloud-based connectivity and analysis for controlling and optimizing all the components. In the future, new elements can be added for assisted docking and even autonomous driving.
The company says it will work with builders to build lightweight and efficient hulls with a stepped design or foiling technology to take full advantage of the electric drive system. It will launch the first system on a 28-foot RIB by the end of the year. Read more at http://ed-tec.de and see the video below: