BoatUS and The Moorings just announced that they're forming a new cruising flotilla in the British Virgin Islands next May.
In normal (non-pandemic) years, The Moorings hosts a week-long BoatUS Flotilla in the BVI, where BoatUS members can charter power and sail boats to cruise as a group through some of the best cruising grounds in the world. The next flotilla will be from May 20-27, and will include stops at some of the BVI's most popular destinations.
A flotilla offers a feeling of security for people who may not have a lot of charter experience. There's safety in numbers, and The Moorings does all the flotilla planning and routing. A flotilla also offers an easy, fun and companionable charter vacation for even the most veteran captains and their families.
The flotilla fees are $500 a boat; the flotilla package includes a dinner ashore, a T-shirt, a vacation planner, and the support of a lead boat from The Moorings from start to finish. The lead boat will monitor VHF communications with the flotilla from 8 a.m. to 10 p.m. each day and will have a professional captain on board.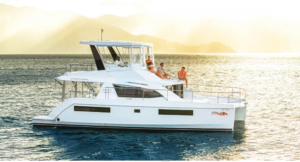 The Moorings suggests that you provision your charter boat at least 14 days ahead of time using The Moorings' online provision store. You also need to plan on paying for a mooring ball each night of the trip; they usually cost about $30 a night, paid in cash. Boats in the flotilla can venture away from the group at any time, and meet up with group at night.
Flotilla members need to arrive at The Moorings Mariner Yacht Club in Road Town, Tortola, on Friday, May 20, and either sleep on their boats or at the hotel on-site.
The next morning starts with a chart briefing and Q&A session, and then the flotilla heads over to Norman Island for snorkeling and the Willy T floating barge. Then it's on to Virgin Gorda, home of the Bitter End Yacht Club, Saba Rock, Leverick Bay Resort and Richard Branson's Necker Island.
The next day it's on to Anegada with its gorgeous beaches and a lobster dinner; then to Jost Van Dyke, Cane Garden Bay, Cooper Island, a free day (so you can return to a favorite spot or explore Peter Island, Trellis Bay or Spanish Town, for example), and finally back to the marina. The boats are due at the marina by 10 a.m. on the 28th. Read more:
https://www.moorings.com/sites/default/files/boatus_flotilla_itinerary_2022_.pdf?t=1NK99h