The Nordhavn 80, designed as an owner-operator, ocean-crossing cruising yacht, has just been nominated for two prizes in The International Yacht & Aviation Awards 2023.
Hull number one of the 80 is on the shortlist for both Best Motor Yacht Design and Best Interior Yacht Design awards in the 25-40 meter category. Last year, the Nordhavn 41 won the Best Yacht Design award in the under-25-meters category, and in 2017 the Nordhavn 96 won the Best Yacht Design award in the under-40-meters category.
The citation for this year's award says, "The N80 is a distinctive yacht that bridges the gap between 'yacht' and 'megayacht.' She has all the features of a much larger vessel while maintaining ease of handling with minimal or no crew."
It also noted that the 80 has "a luxurious interior that feels warm and comfortable while making sure it would stand up to the rigors of true offshore passage making." In a unique request for a yacht this size, the owner wanted an elevator to move from deck to deck. The citation says Nordhavn achieved this with a "vacuum" type elevator that works even in rough sea conditions.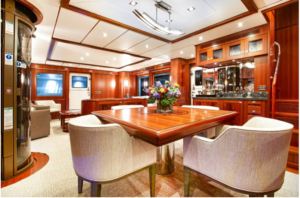 The Nordhavn 80 made its world debut at the Lauderdale show in 2021, and we wrote at the time that, "The new Nordhavn 80 is something of a departure for the company; it looks a bit more like a superyacht than like most previous Nordhavns. Jeff Leishman, Nordhavn's design chief, drew the 80 with straighter lines, larger windows, thinner mullions, and generally more of a contemporary European influence than was visible in Nordhavns in the past."
The citation for the new awards says that the 80 was built by a talented team of carpenters who were able to incorporate the exotic woods and intricate wood inlays that the owner wanted. Indeed, every piece of furniture was designed and built to order from the client's sketches and descriptions.
The International Yacht & Aviation Awards are produced by major European design publications. The winners will be announced next spring. Read more:
https://www.thedesignawards.co.uk/international-yacht-aviation-awards/nordhavn-yachts-