It's taken a while, but a retired couple from Alaska are now living their dream, having just taken delivery of their new Nordhavn 41 in Turkey and cruised 400 miles to Athens, Greece. They've left the boat there for the winter, but will return before long to start their five-year plan of cruising through Europe and then bringing the boat back to the U.S. and all the  way up to their home port of Palmer, Alaska.
The boat, named Meraki, is owned by Jan and Tom Newman, who both say they love being on the water Tom grew up in Hawaii, and started sailing at 9. Jan grew up in New England, and started sailing at 10.
When they were first married and living in Alaska, they said they wanted to sail around the world together. Three children and a career got in the way. Tom owned an underwater surveying company that took him to oceans all around the world, but that was work, not exactly the relaxed cruising life he had in mind.
About a dozen years ago, thinking about retirement, the Newmans started looking at possible liveaboard boats. They developed checklists; they walked the docks; they visited boat shows.
Then they saw renderings of the Nordhavn 41, an ocean-cruising boat that replaced the original Nordhavn 40 that had gone around the world in 2001 and 2002. After the first two 41s arrived at the Nordhavn headquarters in Dana Point, California (they had been built in Turkey), the Newmans flew down for a sea trial. They were hooked.
"This was the boat for us," Jan wrote on their blog.
While they were waiting for the boat to be built, the Newmans took classes, on everything from rescues at sea to reading the weather. They wanted to be able to cruise safely and independently. They particularly liked the 41's twin Beta diesels. "The fact that the 41s are mechanical (as opposed to electronic) means that, with an uncomplicated set of tools, repairs can be done by the average Joe (or Tom) in the midst of the open sea where chances of getting parts and service are pretty much nonexistent," Jan wrote.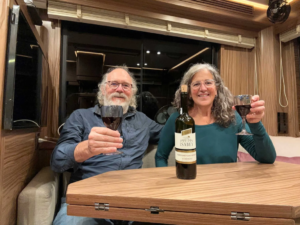 The 41 comes with either one or two cabins. The Newmans ordered two, so they could cruise with their family and friends. They visited the factory several times to check on the boat, and took delivery a few months ago. Their family did indeed visit them in Greece just before the holidays.
Their game plan now is to cruise the Med this spring and summer, cruise through the European rivers and canal systems, and ultimately go up to England, Iceland and Greenland to Nova Scotia and down to the U.S. You can follow their progress at http://mvmeraki.com
Specs.: LOA: 41'4"; Beam: 13'11:; Draft: 4'6"; Disp.: 43,300 lbs.; Fuel: 900 gals.; Water: 300 gals.; Power: 2×74-hp Beta diesels. Read more: