Volvo Penta and Groupe Beneteau just announced that they've formed a partnership to involve customers and dealers in developing their new hybrid-electric power systems for recreational boating.
The two companies say they want immediate feedback so they can develop new technology that provides a quiet and sustainable power for boating in the future.
Volvo already has run a successful commercial hybrid-electric system on a tour boat for Hurtigruten Svalbard in the past year. Now it's turning to the recreational market.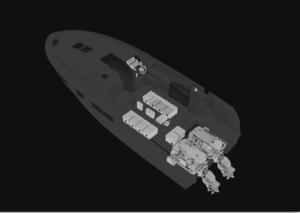 The new demo boat will be one of Beneteau's Jeanneau NC 37 models (see rendering above). It will be at Volvo's Krossholmen test facility in Sweden this spring so that customers, dealers and the media can get a full hands-on experience. Volvo and  Beneteau want feedback telling them what customers value most in the hybrid-electric experience, and what performance they expect.
The NC 37 demo boat will  have twin Volvo D4-320 DPI Aquamatic hybrid-electric power, Volvo's joystick docking system, and Volvo's Dynamic  Positioning System, which has been adapted to work in electric mode. It will have a hydraulic clutch for silent shifting at low engine speeds.
Johan Inden, the President of Marine Business for Volvo Penta, says that one of the company's key concepts is learning by doing. "By running customer trials alongside product development," he said, "we will accelerate transformation in boating and ensure our finished products are market-ready."
And Erik Stromberg, VP of power and motor yacht products for Beneteau, said, "Our roadmap includes the rapid introduction and commercialization of hybrid models across several of our market segments."