The Slowboat Flotilla just announced that this year's voyage up the Inside Passage will be a six-week expedition starting on May 10 in the San Juan Islands above Seattle and ending in late June in Juneau, Alaska.
During that time, the flotilla will travel through some of the most beautiful cruising grounds anywhere, with majestic vistas, tumbling waterfalls, icebergs, glaciers, and the ever-present possibility of a sudden appearance of whales, eagles, and bears, among other wildlife.
Announcing this year's schedule, Laura Domela, one of the flotilla's leaders, with her husband, Kevin Morris, wrote that the scenery and sense of adventure gets better every day. "As we travel north, structures on shore vanish, boat traffic diminishes, topography grows steeper and taller, and wildlife encounters become more  frequent."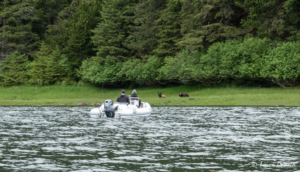 Domela, an artist and photographer, and Morris, the editor of Electronic Engineering Journal, have led Slowboat Flotillas for several years on their Nordic Tug 42, Airship. They cruise at about 8 knots. The rest of the year they live in Portland, Oregon.
The flotilla has a maximum of five other boats, and it gives owners a chance to cruise the Inside Passage in company (safety in numbers), and to experience the best of all the various stops along the way. They also learn a great deal about their own boats, since most of them have not taken such a major expedition before.
You can go up (and down) the Inside Passage on your own, of course. Indeed, Eric Schweikardt, the photographer, and I did exactly that about 30 years ago in a yellow Donzi 33, which got a lot of attention along the way. We cruised from Seattle to Juneau, spent the night, and turned around and headed back to Seattle. It was one of the best trips (if not the best trip) either one of us ever had.
I've subsequently done much of the same route on slow boats and on faster boats (but not as fast as the Donzi) at various times, and as part of a group. Traveling in a group, such as the Slowboat Flotilla, certainly is a more enjoyable, social, and safer, way to go. Read more:
https://slowboat.com/2023/01/announcing-the-2023-slowboat-flotilla-to-alaska/