If you're thinking of heading to Maine this summer, you might want to treat yourself to a charter on a classic Ellis 36 express cruiser, appropriately named Downeaster, from the docks at the elegant Claremont Hotel in Southwest Harbor.
Once you're on board, you can cruise around Southwest Harbor, home to Ellis, Hinckley and other Downeast builders, across the way to even smaller and quieter Northeast Harbor, or head up Somes Sound, the four-mile-long fjord-like protected cruising ground that basically cuts Mt. Desert Island in half.
To purists, Somes Sound is technically not a fjord, although it comes close. It was formed 14,000 years ago when the last glaciers retreated. To my mind, it's one of the most beautiful cruising grounds on the east coast. It's overlooked by Cadillac Mountain; at 1,530 feet, it's the highest point on the Eastern seaboard. Mt. Desert Island is the home of Acadia National Park, with 55 miles of hiking, biking and horse-carriage trails.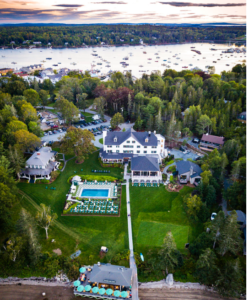 The Ellis charter provides a taste of all this; you can charter Downeaster for an afternoon from the Claremont or longer. It sleeps four, is powered by a 420-hp Yanmar diesel, has a head with a separate shower, generator, grill, new Garmin chartplotter, radar, and safety equipment for a cruise.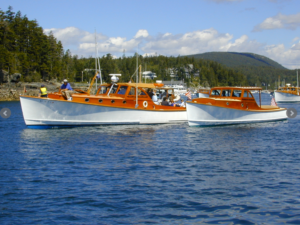 Ellis has a long history in the area. It started out as Bunker and Ellis, building lobster boats in Southwest Harbor in the 1940s. Some of them are still running today (see picture of a rendezvous). The ownership changed to just Ellis in the 1980s. Ellis is still building boats, from 20 to 36 feet, and its charter fleet includes several Ellis 36s, a Hinckley Talaria, and a Wilbur 38 flybridge.
For its part, the Claremont Hotel opened in 1884. It's now a waterfront resort on six acres, with a heated pool, a spa, a croquet court on its lawn, and several restaurants, including the Batson River Fish Camp down at the boathouse on the docks.
Read more at http://ellisboatcharters.com and see the video below: