Bluegame Yachts in Viareggio, Italy, is making a 35-foot foiling, hydrogen-powered America's Cup chase boat that may help shape the future of boating.
The boat is called American Magic, and Bluegame is building it for the New York Yacht Club, one of the challengers for the 37th Cup races next year in Barcelona. It's powered by two electric motors driving props on the forward foil; they are run by two 70kW EODev hydrogen fuel cells (one in each hull).
American Magic is scheduled to be launched this summer. It foils once it reaches 24 knots, and it's projected to have a top speed of 50 knots and a range of 200 nm at 28 knots.
"We are optimistic that hydrogen-powered boats and the production of cleaner, more environmentally friendly technology will become a sustainable solution for the wider marine industry," said Tyson Lamond, the COO of American Magic.
The new hydrogen-powered chase boats are the brainchild of Emirates Team New Zealand, which won the America's Cup for the fourth time in 2021. As the defender, Emirates sets the protocols for the next Cup races. It decided to promote the cause of zero-emissions hydrogen power by mandating it for the challengers' chase boats.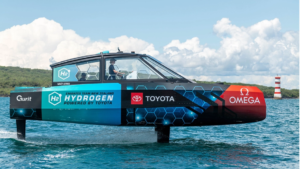 "We realized our chase boats were years behind our foiling race boats," said Nick Burridge, Emirates' operations manager. "To keep up, the tenders needed big horsepower, so we were burning large amounts of fossil fuel."
The team then decided to use automotive and aerospace technology (particularly from Toyota's Mirai car) to develop a hydrogen-powered, foiling chase boat. It launched its first boat, Chase Zero, which uses four 73-gallon composite fuel tanks to carry hydrogen compressed to 5,100 pounds per square inch.
The fuel cells are reliable, and drive two 400-volt electric motors that generate almost 600 hp. Chase Zero has a top speed of 50 knots and a four-hour range at 30 knots. It can hold six people, and carry 550 pounds of gear in addition to their weight. Read more at http://bluegame.it and see the Chase Zero video below: