Azimut just announced that it's starting a new line of luxury hybrid cruising yachts that will cut emissions by 40 percent.
Azimut said the new line, called Seadeck, will be built with lightweight carbon exteriors and planing hulls for efficiency. The new Seadecks, starting with the Seadeck 6, a 56' 7" motoryacht, will be fitted out with recycled and recyclable materials.
The yachts will have solar panels on the roof tops, and a battery pack that's strong enough to power the boat's systems for four to eight hours at anchor. They also will have energy recovery systems to create hot water, and anti-UV film on the windows to moderate head on board.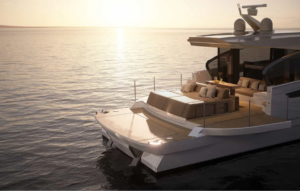 The new Seadecks are low-profile, highly efficient cruisers with a new aft deck that Azimut calls Fun Island, or "a reinvented cockpit for a new lifestyle." The Fun Island is basically an open aft lounge without walls or sides to give guests the sense that they're on a floating island.
The bulwarks fold down on both sides aft, to create even more space there, and the Fun Decks are filled with super-sized sun lounges. They also open directly to the salon to create a large indoor/outdoor social environment.
The Seadeck 6 (pictured) will have three cabins plus one crew cabin. Standard power comes from three 380-hp Volvo IPS500 pod drives, with three 480-hp IPS650s as upgrades. Top speed is 33 knots.
The next model, the Seadeck 7, is 71' 9" long, with four cabins and one crew cabin. Standard power is two 900-hp Volvo IPS1200 pod drives, for a 30-knot top speed.
We don't have more details now. Azimut says it will debut the Seadeck series at the Düsseldorf show next January. Read more: