The fourth, and final, season of HBO's Succession has just started, and it picks up where season three ended, with some of the most crucial scenes taking place on a 279-foot megayacht cruising in the Adriatic not far from Dubrovnik, Croatia.
At that time, the fictional Roy family, owners of the media giant Waystar (if you don't think of Fox and Rupert Murdoch you're not paying attention) have gathered for a critical business meeting. The first evening on board, Logan, the patriarch, announces that he will have to fire one of them (or another leader of the company) to satisfy his investors and troublesome Congressional investigators.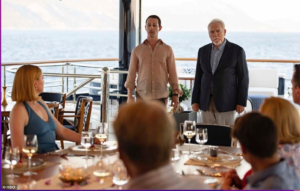 The yacht, Solandge, a $174 million Lürssen launched in 2013, is a perfect setting for a corporate beheading. Indeed, Mark Mylod, the show's director, said it was "the ultimate gilded cage to trap these characters in" with the metaphor of throwing one of them overboard.
Solandge, as it turns out, is close to gilded; the interior does not include gold, but it does include 49 different marble and granite surfaces, and 30 types of wood. It holds 12 guests in eight cabins plus 29 crew in 15 cabins. Its six decks include a private owner's deck, where the bulwarks have been lowered so they don't interfere with the view from the bed.
Elsewhere, Solandge has a helipad, a dance floor with a DJ setup on the upper deck, a Jacuzzi, a fully stocked wine cellar, spa, massage room, elevator, and what Moran, which charters it, calls "a number of bars, buffet areas and even a large swimming pool."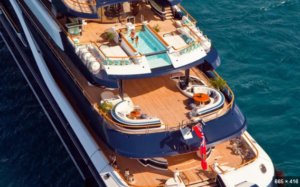 The toys include diving equipment, three Yamaha WaveRunners, wakeboards, kayaks and four tenders, including a 36-foot Fjord.
Solandge is powered by two 2,660-hp CATs. It  cruises at 15 knots, tops out at 18 knots, and has a range of 6,000 nm.
You don't have to own a media company to charter Solandge, but owning something would help. It charters for 1 million Euros plus expenses a week, winter and summer, adding up to a total of $1,166,472, roughly. Read more at https://www.moranyachts.com/luxury-yachts/solandge-3/?yacht-type=luxury-yachts-charterand see  the video below: