John Yo thinks he has a better idea. Yo, 51, the former head of global manufacturing for Tesla who escaped from Vietnam when he was 16, is working on a 30-foot electric boat with two 400-hp motors, far more horsepower than other electric boats of this size.
His new boat, called the R30, will have a top speed of about 40 knots and a range of a few hours at its cruising speed of 20 knots. A prototype will be ready in October; the first production boats are scheduled to be delivered in the spring of 2024.
Chuan (John) Yo certainly should know what he's talking about. After spending time in a refugee camp in the Philippines, his family emigrated to the U.S. Yo earned advanced engineering degrees at the  University of Minnesota, and then worked in engineering, solar and semiconductor jobs before spending six years at Tesla, where he designed battery and drive systems, among other things.
He left Tesla in 2017 and worked for Lordstown Motors, the electric truck startup, and then struck out on his own, launching the Blue Innovations Group in Pinellas Park, just across the bay from Tampa, two years ago. The idea was to design an all-new electric boat with more power and range than anything else on the market.
The twin 400-hp (600kW) electric motors, a "dual motor powertrain," on the R30 are paired to straight shafts. The boat has a battery capacity of 221 kWh, giving it an operating window of eight hours at slow speeds, and less at faster speeds. But Yo knows that most people just drive their boats on weekends, when the R30's batteries should not have to be recharged.
The key to the R30's range comes from lithium iron phosphate batteries, which can be discharge all the way down to zero without damaging the cells. They're good for 4,000 full charges; Yo estimates that would be about 15 years on the R30.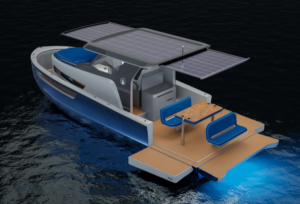 The problem is that they're heavy, weighing almost 3,000 pounds on a boat that weighs 10,000 pounds. To reduce weight, the R30 has an aluminum hull. The batteries are integrated into the hull design, instead of just being placed in a battery pack.
The R30 gets more power, 2,700 watts, from solar panels that are built on top of extensions that slide out of the hardtop. They can be used to charge the batteries and run the boat's electronics.
The boat has a cabin that can sleep two adults, a small galley, a head and a shower. Up top, it has walkaround decks and bulwarks that fold down aft to create more space. There are two MFDs at the helm, and the steering wheel has an integrated throttle and shifter.
The R30 has an introductory price of $300,000, and the company has set up two reservation levels. A BIG reservation costs $5,000 and means a buyer will have one of the first 100 models. A BLUE reservation costs $1,000 and means a buyer will have a boat from 50 percent of the production after that. Read more:
http://blueinnovationsgroup.com