The Moorings just announced that they're holding their first rendezvous ever in Croatia next fall. Starting in historic Agana, not far from the airport in Split, the rendezvous will take place from October 14 to 21, and the week-long cruise will explore the best of Croatia's Dalmatian Coast.
The coast there, in central Croatia, offers some of the Med's premiere cruising grounds, with more than 30 islands, ancient fortresses, protected national parks, rocky outcroppings, historic villages and translucent water. There are also pristine beaches, secluded coves, unspoiled natural settings, and wonderful small restaurants to try some exquisite local cuisine.
To make things easy, the rendezvous will be led by a dedicated Moorings' boat with a professional captain, hostess and technician to make sure that everyone gets to the right place at the right time and that nothing goes awry.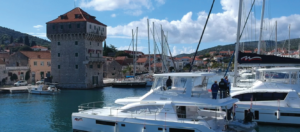 The rendezvous starts and ends at the Moorings' base at the Agana marina (pictured here), and it's open to crewed or bareboat charters, power and sail. The marina is in a village with restaurants and two supermarkets a short walk away.
The route will visit local islands and towns, including Hvar and UNESCO sights, for sightseeing, beach-hopping and even some wine tasting. The rendezvous starts with a welcome party and then includes a wine and cheese tasting on the first night, a group dinner, and wine tasting in Hvar.
The charter package on each boat includes bottled water, coffee filters, a basket of local olive oil, and a bottle of wine. There's also Moorings' branded merchandize, including hats and T-shirts. The rendezvous fee does not include airport transfers, fuel, moorings or berths. Read more:
https://www.moorings.com/croatia-rendezvous?utm_term=PMY%202023&utm_campaign=US%20-%202023%20Third%20Party%20Emails&utm_medium=TM%20US%20Email&_hsmi=257557319&_hsenc=p2ANqtz–LVCpb2Cnu7L56Vpsfe-GZxExSfYlfZs77PDjD6Tq8dYeQs6rFXlohPmlxPrOxCRE5g-8w9wvYGWLTWd2vkxBdFwcMmg&utm_content=PMY%20May&utm_source=email