Sunreef just launched what it says is the world's most advanced electric motor yacht at its yard in Gdansk, Poland. The luxury cat was customized to the owner's specs using the latest in green technology to reach the highest levels of sustainability and energy efficiency.
The massive new cat with a 39-plus-foot beam is powered by two 360kW engines, a set of 990kWh batteries, and Sunreef's solar panel system that is fully integrated into the composite structures. As a result, the company says the 80 Sunreef Power Eco provides unrivaled solar power for extended cruising without relying on fossil fuels.
The new 80 Sunreef was commissioned by a family of experienced yacht owners who believe in sustainability and were looking for an eco-responsible motor yacht. The cat has four cabins and a custom layout to accommodate eight guests in full luxury. It also has an energy-saving air conditioning system for comfort, and smart energy management to provide the range for long cruises.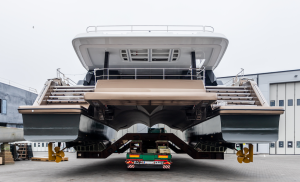 The new owners say they come from three generations of sailors and cruisers who have spent time on their own boats in New England, Florida and the Bahamas, while chartering in the British Virgin Islands. They said they decided to build an electric yacht because "the climate impact of large power yachts is significant," and they would only consider a new power yacht "if it would incorporate technologies that are rapidly scaling in other sectors, such as solar energy and electric vehicles."
They said they visited several yards looking for state-of-the-art facilities, and decided on Sunreef because "Sunreef leads the industry with research and development, high-quality production, highly evaluated sourcing, and compelling on-water performance."
The new owners now plan to spend summers cruising in the Northeast, and join the new yacht in the Bahamas and Caribbean in the winters. They're particularly looking forward to cruising in the Caribbean because it "will offer a wonderful escape from the cold winter weather."
The Sunreef 80 power cat made its U.S. debut at the Fort Lauderdale show last October. It was designed to cruise long distances in safety and comfort, and was powered by twin 1,200-hp MAN diesels, with a top speed of 24 knots and a range of 3,500 nm. Read more: