Canouan is probably the best Caribbean island you've never heard of. At least it has never crossed my radar screen. No cruise ships stop there, no jumbo jets land there, no megayachts gather there for A-list New Year's Eve parties.
But now Canouan (pronounced kuh-nuh-wn), with gorgeous white sandy beaches, clear blue water and only 12,000 people, is experiencing something of a boomlet. A relatively new luxury marina has 120 slips for boats up to 320 feet; a new five-star Mandarin Oriental Hotel has opened along a beach; waterfront restaurants and bars are starting to spring up with sunset views and their own sundowner drinks. Charter boats will take you to a long reef with some of the best diving and snorkeling in the Caribbean.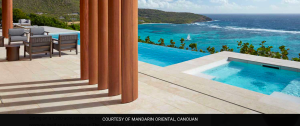 There's no doubt Canouan, only three square miles in size, is still a bit off the beaten track. It's in the heart of the Grenadines, about 20 miles south of Mustique and 110 miles west of Barbados. You can fly there on scheduled flights from Barbados, St. Vincent and St. Lucia, or you can land your private jet at the new airport, just like George Clooney and Leonardo DiCaprio.
The luxury Sandy Lane Yacht Club marina is next to the airport for easy customs and immigration clearance. It has a fuel dock, pump out, Wi-Fi and security guards plus CCTV coverage. You can book TradeWinds charters on the marina plaza.
The Mandarin Oriental, the company's first Caribbean outpost, has opened on a 1,200 acre beachfront estate. It has 26 suites and 13 villas that face the beach and come with their personal butlers; it also has a stunning infinity pool that seems to drop into the sea.
If you're looking for exercise, you can take a hike up Mount Royal, at 877 feet elevation the highest point on the island, and enjoy vistas of Mustique and Petit St. Vincent. You'll probably share the hiking trail with tortoises and soldier crabs. Read more at https://slycr.com and see the video below: