Garmin just unveiled a new GMR xHD3 series of open-array radars with high-definition imaging and the latest technology for new levels of clarity and performance.
The new xHD3 series uses scan averaging, a first for Garmin's magnetron radar, to help filter sea clutter and interference to provide users with enhanced, consistent targets. Processing of target size uses pulse expansion to optimize on-screen shapes for easier interpretation at all ranges, and true echo trails show a historic "trail" of boats on the water, removing the influence of relative motion, so users can more quickly identify moving targets and potential threats of collision.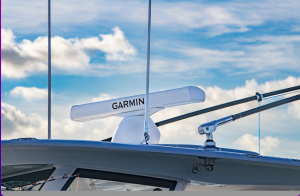 The new radars have a dual-range and overlay feature that lets a single antenna provide split-screen, side-by-side images on a compatible chartplotter. The new series also has a guard zone feature, for use on a chartplotter, to alert users when an object comes within a specific area around the boat.
The open-array series has options of 4-, 12-, or 25kW of power, delivering commercial-grade weather performance with a 100-knot wind rating (although the 4kW models need additional equipment to provide this).
The radars have rotation speeds of 24 and 48 rpm for fast redraw rates, and a range  that extends up to 72 nm (4kW models) or 9 nm (12- and 25kW models).
"Whether you're cruising overnight, fishing offshore, or just out for the day, Garmin's new xHD3 open-array radars look far and wide to deliver an incredibly clear picture of  what's out there, maximizing situational awareness and giving you more peace of mind every time you leave the dock," said Dan Bartel, Garmin's vice president of global consumer sales.
The GMR xHD3 open-array radars are now available. Prices range from $4,699.99 to $9,699.99.
Read more: http://garmin.com