If you're traveling far from home this summer, you don't have to go without boating. Indeed, there are now quite a few boat-rental organizations that will help you get your boating fix, no matter where you are.
Condé Nast Traveler recently put together a list of some of these organizations, just to give you an idea of what's possible. For self-drive day boats, it recommends Click&Boat that was founded by two sailors in France in 2013. It's now one of the largest boat rental companies in the world, with 50,000 boats in 164 countries.
Click&Boat is a peer-to-peer platform, and owners can list their boats that they're not using at the time. You can select your boat by location, destination and even a discount search button for last-minute deals. You'll need a license if you're renting a boat without a captain.
Click&Boat does have a growing fleet of electric boats in various destinations, including Sweden's X-Shore (pictured) that can hit a top speed of 30 knots. Home port is on the Cðte d'Azur, which makes the entire concept particularly attractive.
Borrow A Boat is a British charter portal that was funded in 2017 with the motto of "Any boat, anywhere, any time." It has 45,000 listings in 65 countries; each boat has to meet strict safety and insurance regulations in its home country. It has larger yachts, rather than day boats, and many listings include additional costs for a captain or a chef. Borrow A Boat is particularly popular in the Med and the Caribbean.
SamBoat, started in France, is now part of the Dream Yacht Charter Group, with more than 50,000 listings around the world, including yachts in Malta and the Greek Islands. Different countries have different rules about boating without a license (in France, for example, you can only rent a motor boat without a license if its less than 16'6" LOA). But SamBoat has a search tool "rent without license" so you can see what's available in your area. You can rent a Poseidon Blu Water 170 in Santorini from SamBoat, and cruise away from the crowds.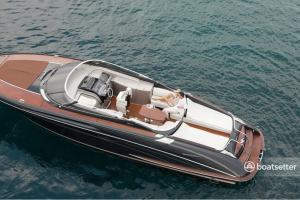 Boatsetter, started in 2012, now has 50,000 boats on its platform; most are in North America. The boats range from classic Rivas (pictured) to Sea-Doos; you can even rent a floating saloon for ten friends on Lake Austin in Texas. Most boats are available for anywhere from two to eight hours. A "plan with friends" button on each listing lets you share potential activities with others.
GetMyBoat, based in San Francisco, has 150,00 listings in 184 countries. It includes just about everything that floats, including houseboats, fishing boats and motor boats. It has a growing "other water experiences" section with paddleboards, windsurfers and hoverboards. GetMyBoat is user friendly, with a messaging function so you can contact the listing boat's owner with any questions before you rent. https://www.getmyboat.com/
 Read more: https://www.cntraveler.com/story/best-boat-rental-services