To most of  us, the concepts of superyachts and fast are almost mutually exclusive. You want to go fast? Get a Cigarette, or a Fountain. (I once drove a Fountain 162 mph, and that's fast.) You want to relax with your family or friends or enjoy life in the Med like an Onassis in the past or a Jeff Bezos today? Get a superyacht, with all the amenities you could possibly imagine and a top speed that's basically irrelevant. If you want get somewhere fast, you can always take the yacht's helicopter.
Still, the itch for speed persists, no matter how big, or luxurious, or costly, the vessel. There's also no question that some bragging rights are part of the equation. What are the fastest large yachts today? The Robb Report just set out to answer that question. Here's what they found:
1.Bolide 80, 84 mph (pictured). Bolide Yachts says its new 80, which will make its debut at the Monaco show in September, is the first HMY, or Hyper Muscle Yacht, a line that eventually will run from 60 to 170 feet. It's a full carbon fiber boat, with a multi-stepped hull and three 2,000-hp MAN V12 engines. Its low profile, streamlined hull, and aerodynamic shape are all designed for maximum speed.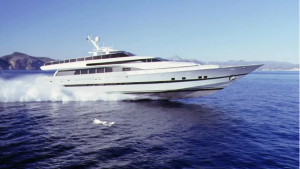 2.Foners 136, 80 mph. Powered by two 1,280-hp MAN engines coupled to three 6,700-hp Rolls-Royce gas turbines and three KaMeWa water jets, the all-aluminum Foners has reigned as the world's fastest superyacht for more than 20 years. It was built by the Spanish shipyard Izar for the King of Spain; the superstructure is lined with Aramid fiber to bulletproof the interior.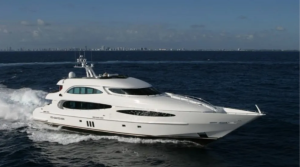 3.The World Is Not Enough, 77 mph. John Staluppi, an American entrepreneur and car-dealership magnate, built this 139-foot yacht in 2004 at Millennium Super Yachts. Staluppi's wife, Jeanette, designed the interior with Evan K. Marshall. Power comes from two Paxman diesel engines and two Lycoming gas turbines for a total of 20,600-hp. It has a range of 3,800 nm at 10 knots.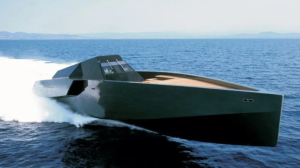 4.Galeocerdo, 74 mph. Designed by Luca Bassani, the founder of Wally, this 118-foot yacht was launched by Rodriquez in 2003. It's powered by three Vericor TF50 gas turbines generating 16,00-hp and driving three Rolls-Royce KaMeWa water jets. The Wally-like profile is unmistakable.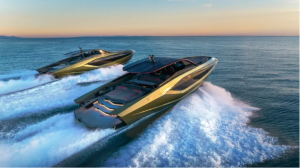 5.Tecnomar for Lamborghini 63, 72 mph. Lamborghini, the Italian luxury car maker, joined forces with The Italian Sea Group to create this 63-foot Tecnomar. It's designed to celebrate 1963 when Ferruccio Lamborghini founded his car company. It's built with carbon fiber and powered by two 2,000-hp MAN V12 engines.
Read more: https://robbreport.com/motors/marine/gallery/fastest-superyachts-1234877226/4-bolide-screen-shot-2023-08-11-at-2-20-00-pm/