The 49th annual Lake Tahoe Concours d'Elegance just ended on the west shore of the majestic lake, one of the most beautiful spots in the United States. (I may be biased here, because I grew up in San Francisco and my family spent many summer vacations there.)
Nestled between California and Nevada at 6,225 feet above sea level in the Sierras, Tahoe is about 21 miles long and 11 miles wide. The water, averaging abut 1,000 feet deep, is also clear and cold, very cold. If you're waterskiing there, the water temperature alone is a major incentive not to fall down.
This year the Lake Tahoe Concours d'Elegance included more than 60 of the most well-preserved and restored antique boats in the U.S. at the Obexer's Boat Company docks. The event was organized  by the Tahoe Yacht Club Foundation and Tahoe Luxury Properties. Hundreds of visitors enjoyed the view, the boats, some live jazz, and an occasional glass of wine or cocktail. But there was no question that the boats were the center of the show. Here are some examples from the Concours' Facebook pages.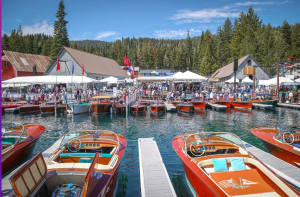 A view of the docks (above).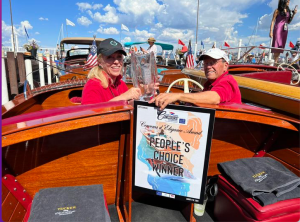 Tucker, a 20-foot, 1956 Chris-Craft Custom Sportsman Utility, won the People's Choice award. It's owned by Bob and Ellen Swensen.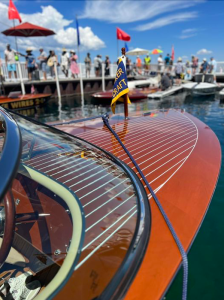 Hacker Craft, made in New York state, was represented by a 100-percent electric boat.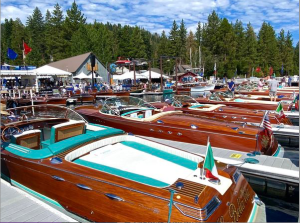 The lineup of beautifully restored antique boats represented a celebration of American boating.
Take a look at the video of boats arriving for the show below: