The Newport International Boat Show, marking the start of the fall boat show season on the East Coast, opens on Thursday, September 14, and runs through Sunday, September 17.
The show celebrates its 52nd anniversary this year, and it's still in the same place at the Newport Yachting center in the heart of historic Newport (the British fleet anchored off Newport during the Revolution). One of the largest in-water shows in the U.S., the Newport show has grown every year, and now will be spread over 13 waterfront acres. Hundreds of exhibitors, dealers and manufacturers will be there, on the docks and in the tents, displaying new engines, electronics, accessories of all sizes and shapes, and a variety of new power and sail boats from 15 to 90 feet.
The show will include on-water training courses, also for power and sail. The Freedom Boat Club will hold its popular 90-minute hands-on courses, including Docking for Beginning Boaters (and then docking for intermediate ones too). This year there will be more seminars than ever before, with classes on cruising at the Marriott and on diesel engines and electrical systems at the IYRS School of Technology and Trades, a 10-minute walk from the show.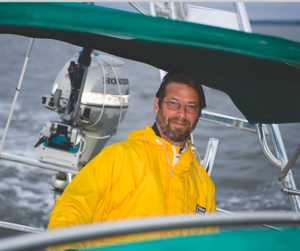 A new seminar this year will deal exclusively with multihulls, a rapidly growing class of both power and sail boats. It will feature three multihull experts, including George Day (pictured), my Cruising Odyssey partner and founder of Multihulls Today. (You don't have to worry about George's credentials; he's sailed around the world with his wife and two children.) The seminar will include advice about buying, maintaining and cruising on a multihull, plus a Q&A session. It runs from 9 a.m. to noon on Thursday at the Seamen's Church Institute within the show at 15 Market Square.
The show itself runs from 10 a.m. to 6 p.m. on Thursday through Saturday, and 10 a.m to 5 p.m. on Sunday. You can buy tickets in advance. They cost $40 on Thursday, the preview day, and then $33 a day for Friday through Sunday. You can save $2 by buying the tickets on line any time before opening day. Children 12 and younger are free if they're with an accompanying adult.
You also can buy advance tickets for parking at Easton's Beach. A shuttle runs to and from the show from 8 a.m. to 8 p.m.
Read more: http://newportboatshow.com